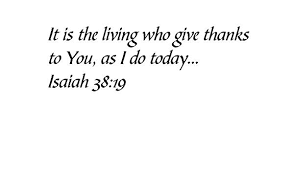 A TIME TO GIVE THANKS
A lot of people are looking forward to the end of this very deadly scourge called COVID 19. And indeed I pray to the Lord to have mercy and rid the earth of this pandemic. High on the to-do list of many is to get to church for a major Thanksgiving once this is all over. And that is a very good thing to look forward to. But I hate to burst anyone's bubble or disappoint them. The real Thanksgiving is not about the four walls of any building in any geographic location at any point in time in the future. There is no time like right now where ever you are to start giving thanks to God.
In August 30, 2016 the place of praise article *Do not be guilty of evil* (please follow the link here  https://theplaceofpraise.com/dont-be-guilty-of-evil/ )  tells about how God charged the Israelites with doing evil. What had they done that was evil in the sight of the Lord, you may ask? Well, what they had done was that; they had locked up the temple, they had turned out the lamps, they no longer burnt incense and they no longer made burnt sacrifices. "They also shut the doors of the [temple's] entrance hall, extinguished the lamps, and didn't burn incense or sacrifice burnt offerings in the holy place to the God of Israel." 2 Chronicles 29:7 God's  Word Translation   And all the same things could easily apply to us today. How do I mean?
To shut the doors of the temples entrance hall, as the Israelites did, is to stop giving thanks to God. "Enter into his gates with thanksgiving, and into his courts with praise: be thankful unto him, and bless his name." Psalms 100:4 KJV To extinguish the lamps is to stop reading the word of God which is "a lamp unto our feet". "Thy word is a lamp unto my feet, and a light unto my path." Psalms  119:104 KJV To not burn incense means to stop praying.  "Let my prayer be set forth before thee as incense; and the lifting up of my hands as the evening sacrifice." Psalms 141:2 KJV  And to not sacrifice burnt offerings means to no longer devote, surrender or commit totally to God. "And to love him with all the heart and with all the understanding and with all the strength, and to love one's neighbour as oneself, is much more than all whole burnt offerings and sacrifices." Mark 12:33 English Standard Version
Today , "WE", are the temple of God. This has become clearer now more than ever before. Places of worship have been locked up for about three months now. But that has not stopped spiritual activities of thanksgiving, praise, worship and prayer in our homes by ourselves from taking place. If anything such activities might be on the increase even if borne out of fear. Because of all the fear and uncertainty a lot of us have rededicated ourselves to God, spending most of our time now studying the word and meditating thereon. And of course we should. Many of us were still out and about, going to work and even social gatherings before the lock down was announced (though the index case in Nigeria had been reported a little over a month before then) and we are still hale and hearty.  And quite a number have all kinds of underlying medical conditions yet we are still up and about. We have been spared. Many were not. And it is definitely not because we have been so good at observing all the World Health Organisation protocols as to how to keep safe from being infected. God has simply been good and merciful to us.  And as it is written; "Only the living can thank you, as I am doing today. Each generation tells the next about your faithfulness." Isaiah 38: 19  Contemporary English Version
So we do not have to wait for the big event of  re-opening worship centres to start thanking and praising God. We do not have to wait for church before we rededicate ourselves to God and commit to His work.  As long as there is breath in us, God deserves our thanks and praise. If we neglect to give Him thanks even now, it is evil. Please do not be found wanting. 
NOW IS THE TIME TO GIVE GOD THANKS. 
OLUYINKA EGO-MARTINS ©
p.s The attached http://https://youtu.be/nIB7iXkpAk0 song by Brooklyn Tabernacle Choir says it very well. Please enjoy it. Thank you?