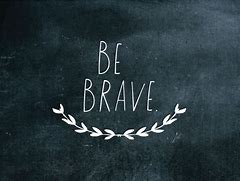 BE BRAVE  
"You make me brave
You make me brave
You call me out beyond the shores into the waves"
A brave person is someone who possesses or displays courage; a person who does not show fear in difficult or dangerous situations.
In the account of David and Goliath in the bible, we see the picture of strong army men and a young shepherd boy versus a giant. In 1 Samuel 17:11 (The Message), the bible said that "When Saul and his troops heard the Philistine's (Goliath's) challenge, they were terrified and lost all hope." For context, Goliath was a giant nearly ten feet tall and he challenged the Israelite army at the battle front for forty days. But one day Jesse sent his youngest son, David, to deliver some refreshments to his older brothers who went to the war front with King Saul and he heard Goliath's challenge.
I love the way The Message version captures David's response, David said "Who does he think he is, anyway, this uncircumcised Philistine, taunting the armies of God-Alive?" David was eventually summoned by King Saul in 1 Samuel 17:31, and in his bravery, he said to Saul "Don't give up hope. I'm ready to go and fight this Philistine." Saul initially told David, that he could not fight Goliath because he was young and inexperienced, but David narrated how being a shepherd boy had given him a lot of experience, he had encountered a lion and a bear and protected the flock from harm.
The peak of this moment for me is in 1 Samuel 17:37 when David said "God, who delivered me from the teeth of the lion and the claws of the bear, will deliver me from this Philistine." David's bravery did not come from his physical strength, especially in comparison to Goliath, his strength came from God. David stood tall among army men who were equipped with swords and armors, but he chose to believe that God would deliver them.
David without a sword or armor but with his bravery, a sling and a stone, was able to defeat and kill Goliath. The King Saul was so impressed that he had to ask "whose son is this young man?"
Imagine if David had allowed the fear of the giant to overcome him? The battle would have been over before it even began, he may have even given up when he saw the size of the giant.
As Christians we always have God on our side and bravery is an attribute we must possess in abundance. Sometimes life can be a bit tempestuous and with the different things going on in the world there is a lot of fear, panic and many Goliaths challenging us. In order to be brave we should not rely on our own strength, intellect or abilities but on the strength of God.
We have been called to live full lives
Lives full of faith
Lives full of light
Lives filled with blessings
Let us take opportunities and try new things and not let life pass us by.  Ephesians 6:10 says "Finally be strong in the Lord and in the strength of his might."
So I encourage anyone reading this today to be brave and be bold for God is on your side.
Ifeoluwa Jaiyesimi.©
The Revolutionary Righter.©