BUT THE GREATEST OF THESE IS LOVE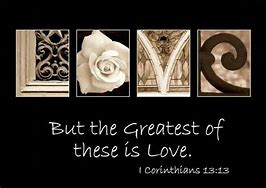 BUT THE GREATEST OF THESE IS LOVE
Last week, I was discussing with a client of mine about the importance of having a genuine support system. Incidentally, this week, that same conversation continued with a sister of mine. And I knew then, that I had to talk about it. I remembered how when she had lost her husband at a very young age she had moved back home to be surrounded by her nearest and dearest. I recall going to see her at their family home. They were all around her; her parents, her siblings. They helped with the children; they helped her cope, they helped her through one of the darkest periods of her life. That is Family.
I am truly, deeply blessed and I am forever grateful to God for my family too. I was a mature single up until I was forty-six year old. This meant a lot of things. First my proverbial biological clock was by that time furiously ticking away. All my other siblings were married; younger and older. Most of my friends were not only married with children, some were already grandparents. I had to endure looks of pity and silly snide remarks and all manner of comments; sometimes deliberately made to hurt me. I once ran into a friend in the market who dared to tell me I was single because I had not prayed enough. There were those who wanted me to literally be dressing up in rags in order to attract anything; (definitely not a man for sure); there were others who wanted me to just hook up with anybody, get pregnant (after all I was comfortable enough to take care of a child) and have my baby. There were days I cried myself to sleep especially when people who should not have, were making advances at me. That was when I knew I had to do something drastic.
So with the help of my family, and that of a very kind younger friend, who worked with me to choose a University and apply for my Masters, I went to the University College, London for a year and graduated with an MA Linguistics from the Faculty of Brain Science in 2013. On my return, I met the most amazing and supportive man and we were married in a very short time.
Today, my story is about my family and their unwavering support for me especially as a mature single faced with all kinds of rubbish outside. They made my life a bed of roses at home. From my father of blessed memory, to my most amazing and extremely supportive mother, to all my siblings; the love and support was never in short supply.
Naturally there were times I felt sad and wondered when things would change. All my siblings already had children and I loved them all very dearly. During some school holidays they would drop the children off with me for a few weeks. We would bond and it always felt so good.
I am aware that we are not all blessed with the priviledge of a loving and supportive family. Yet most of us have our own families today. What seeds are we sowing there? Are we pouring huge amounts of love and support into our families? That is the oil that lubricates the family. Some siblings fought world wars and went to their graves as sworn enemies. What did they tell their maker who is the personification of love?
"So now I am giving you a new commandment: Love each other. Just as I have loved you, you should love each other. Your love for one another will prove to the world that you are my disciples". John 13: 34 – 35 NLT
The bible as a whole tells the story of God's love for us: a love so deep that God gave all He had – His only Son, Jesus.
These are desperate times indeed. This is the time for us to love members of our families regardless of whatever might have happened in the past. Please… let us leave the past behind.
Love them because love covers a multitude of sins.
Love them because they need to know they are loved.
Love them because it will help them cope in these desperate times.
Love them because God said we should.
And family member, please this is not the time to play superman or superwoman: let somebody hug you, let them take you out for a meal, let them pray with you. Tell somebody what you are going through and be the shoulder that another can lean on. Receive that gift, do not turn it down. Call your mum. Daddy, please forgive that errant child. Darling, go and visit your sister. Let us be there for one another.
"Dear friends, let us continue to love one another, for love comes from God. Anyone who loves is a child of God and knows God." 1 John 4: 7 NLT
But the greatest of these is love.
OLUYINKA EGO-MARTINS©