KNOW THE TRUTH AND BE FREE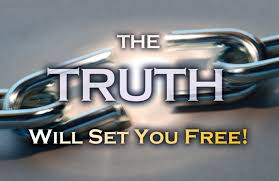 KNOW THE TRUTH AND BE FREE
So much has happened in Nigeria in the past couple of weeks. We have gone through a cascade of emotions from anger, determination, strength, hope, shock, disbelief, confusion, grief, sadness, fear, insecurity and to anger all over again. We ask questions like who and why? And no answers are forth coming. There is heat, tension and unrest in the land. Social media is awash with information and misinformation.
In all this, I dare ask, what are we focusing on that is causing us fear and anxiety? What are we filling our minds with that is causing sleepless nights?  It is time to turn the spotlight away from all the trending news and let us turn on the light that is Jesus.
Jesus is the Light of the World, "Then spake Jesus again unto them, saying, I am the light of the world: he that followeth me shall not walk in darkness, but shall have the light of life." John  8:12  KJV  It is time to walk out of the darkness of things that are not clear and follow Jesus.
Jesus is the Word of God.  "He wore a robe dipped in blood, and his title was the Word of God."  Revelation 19:13 NLT It is time to focus on Jesus, the Word of God.
Simply put, let us make our way to Jesus, the "Light" and the "Word of God". In Him there is clarity and assurance that it will be okay. (We waited for someone to talk to us and make sense of all that had taken place but instead, we were left more baffled than before). The bible tells us this "Sanctify them through thy truth: thy word is truth." John  17:17 KJV Once again I say that the truth and clarity we need is in the Word. We owe it to ourselves to preserve our minds by feeding on the truth that is the Word of God. There is hope, love, joy, peace and security, in the Word of God. All that we are seeking out there, that keeps eluding us, always being out of reach is right there in the Word of God. Yet if we are not acquainted with the Word we will never know these things. So it was that while I was preparing this article my nephew "the Prof", just blurted out…. (without asking him or discussing anything with him) Psalms 91:4 "his truth shall be thy shield and buckler." and I  just knew God wanted me to write it down. The truth, that is the Word of God is a defence, it protects us from every adversity. Now is therefore the time to spend time with the Word, if you have not already been doing so. Let us get into the "Word" relationship now. It will benefit us endlessly.
Know also that God watches over His every word to bring them to pass. "Then the LORD said to me, You have seen well, for I am watching over my word to perform it." Jeremiah 1:12 English Standard Version  So when He says "For I know the plans, I have for you," says the LORD. "They are plans for good and not for disaster, to give you a future and a hope." Jeremiah 29 : 11 NLT;  that is exactly what He means.  Our future as a nation is not hopeless but rather filled with hope.  Because God says so.
As encouraging as the Word of God is to believers the flip side for those who engage in evil is not very pleasant.  But again if they are not acquainted with it, how would they know that they are actually putting themselves in harm's way? So when God says: "But evil people are doomed; what they have done to others will now be done to them." Isaiah 3:11 Good News Translation; that is exactly what will happen. Remember God watches over His word to see that they happen. God never minces His words.
Regardless of how they try to make it appear like nothing happened, or how they try to trivialise and totally disregard what the world saw as sheer wickedness, God will do what needs to be done. Listen!  "Do not rob the poor because they are poor or trample on the rights of an oppressed person at the city gate, because the LORD will plead their cause and will take the lives of those who rob them."  Proverbs 22: 22-23  God's Word Translation
Was it not at the gate that fire was opened on innocent people?  Watch God, watch over His word to perform it. Knowing this truth is enough to put our minds at rest.
Let us therefore not be afraid or sad and let us continually trust in the truth that is the Word of God, knowing that it is just a matter of time before they come to pass; and as that sinks in let us be rid of all negative emotions and have every reason to hope that tomorrow will indeed be a better day.
The Word of God is the Truth: Know it and be free of all negativity.
OLUYINKA EGO-MARTINS ©