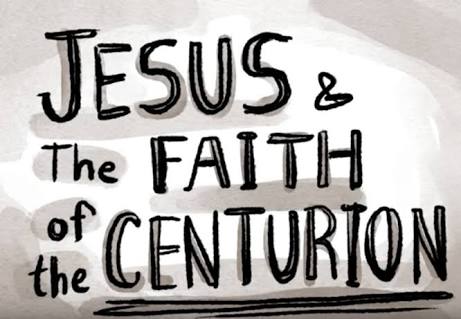 LET YOUR FAITH MOVE GOD!
A couple of years ago, I sat with the Revolutionary Righter (IfeOluwa Jaiyesimi) at the London Hillsong Church listening to Paul Scanlon as he preached a great sermon. The sermon was titled the Centurion Factor and guess what, I found it on line. So here you go. https://lnns.co/kDThx3AyYdi  It's a must-listen to. I took so much away with me that day and it also reminded me of a book I had read many years before by Bill Johnson titled, "Dreaming with God."
Bill Johnson said something to the effect that though God created David , building the temple to praise and worship God was David's idea. And God made it happen. Paul Scanlon in his sermon talked about the Centurion (who was not a Jew) and his great faith and that even Jesus marvelled at it. "When Jesus heard these things, he marvelled at him, and turned him about, and said unto the people that followed him, I say unto you, I have not found so great faith, no, not in Israel."  Luke 7:9 KJV
Here are just a few points from that sermon though I hope you will find time to listen to it .
Scanlon describes the faith exhibited by this centurion as "human interruption of divine intention." You see Jesus was already on His way to the centurion's house to heal his slave. This was based on the glowing report of the centurion's good works which the disciples made known to Jesus. But on the way the centurions friends met with Jesus and this is what happened: "So Jesus went with them. But just before they arrived at the house, the officer sent some friends to say, "Lord, don't trouble yourself by coming to my home, for I am not worthy of such an honor.  I am not even worthy to come and meet you. Just say the word from where you are, and my servant will be healed." Luke 7:6-7 NLT
This is truly amazing.  The centurion brought an idea that Jesus need not come to his house. That His words would literally carry the same power and authority as His very presence. And so Jesus stayed back and powered the centurion's idea. And behold the centurion's slave was healed immediately. Is that not awesome!  How about we follow in the same footsteps and begin to interrupt divine intention.! It all boils down to our faith. Jesus Himself described it as great faith. This means , like Scanlon said, that we can actually suggest things to God that are unprecedented. But do we dare? Perhaps it is really time to break out of that same routine, that comfort zone.  A new idea might threaten us yet  it just might be the very thing that will move God to act. According to Scanlon, there is so much that God can do but He does not tell us because we have not asked Him. Some things might sound or appear crazy. But I am certain the  centurion's idea sounded strange at that time too.  No one had yet suggested such a thing. But look what happened.
Perhaps there is a dream you have that sounds bizarre even to you the dreamer; or a plan you have been meaning to execute,  a product that you want to launch; why do you hold back? Quit worrying about what people will say. In the grand scheme of things they do not really count. It is between you and God. So enough faffing around now, let go of that fear. You should just make bold and go for it. Who knows? Maybe that is the very faith that will move God to back you up. Waste no more time.
Let your faith move God now!
OLUYINKA EGO-MARTINS ©