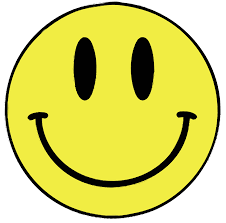 SMILE WITHOUT FEAR.
"A joyful heart is good medicine, but depression drains one's strength." Proverbs 17:22 God's Word Translation
You never smile when you are afraid.
You never smile when you have a heart full of doubt.
You never smile when you are worried.
And it's tough to smile when you are hurting;
Yet a smile can drive away these dark foes of contentment.
It is a very difficult task to try to arrange a future free from disaster, trials and tribulations; with our own efforts and plans without putting God at the centre. However, we can smile at the future if we lay it down by faith at the feet of the God of the universe who knows the end from the beginning.
Always put a smile on your face because it's a very powerful weapon. I am not talking about a cheesy fake smile here. I am talking about a genuine smile of happiness. So instead of putting on a frown when in hard times which will only make one feel worse, let us turn that frown upside down. A smile is the reflection of joy in our heart, and we can smile at our situations or when people and loved ones hurt us, when they deserve much less than a smile. We can smile at life when it knocks us down and then get up again in Jesus name and then yes… smile.
Brethren, God wants our lives to be filled with His presence, His peace and His joy; nothing less. He wants His love, joy and peace to fill our lives. Life is much too short to live with anger, bitterness, fear, regret, turmoil and worry constantly dogging our steps.
Smiling is not just a movement of our face muscles; it's what our face does when our heart is glad. Many people have nothing to smile about. Their life is empty and without meaning. They are busy chasing after the things that can never bring lasting satisfaction. Money nor treasure won't give you a deep down smile, one may smile for a few hours but sooner than later it is bound to fade away. But the most beautiful Smile is the one that comes struggling through tears.
"A happy heart makes the face cheerful". Proverbs 15:13a; Our hearts control our faces. If our heart is gloomy, our face will appear grumpy. If our heart is happy, our face will definitely be cheerful.
King David felt depressed many times, yet when he stood in the presence of God he was able to say:
"I have God's more-than-enough, more joy in one ordinary day. Than they get in all their shopping sprees. At day's end I'm ready for sound sleep. For You, God, have put my life back together."  Psalm 4:7-8; The Message  A smile can help to lift our countenance and cheer us up whenever we are filled with anxious care. But trusting God; that brings inner peace and joy beyond compare.
PST  EVELYN
(WRITING @ THE COURTYARD)