TAKE THE ASHES OFF THE ALTAR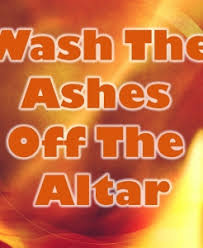 TAKE THE ASHES OFF THE ALTAR
When I think of the altar, my first memory is of the raised structure at my family church where the Holy Eucharist is prepared. It is also where our offerings are placed to be accepted by God. This altar is always very well looked after, spotless, neat and tidy.
In the old testament we are told that sacrifices or offerings  were made on altars and these were animals slaughtered and burnt so that the aroma would go up to God as a sweet smelling savour. When the animals were completely burnt up ashes would be seen on the altar. But they would be cleaned off.  "And they shall take away the ashes from the altar, and spread a purple cloth thereon:" Numbers 4: 13 KJV  Ashes were also associated with mourning, sadness, sorrow and pain. Even protests were registered with ashes as was the case with Mordecai. "When Mordecai perceived all that was done, Mordecai rent his clothes, and put on sackcloth with ashes, and went out into the midst of the city, and cried with a loud and a bitter cry." Esther 4:1. KJV
The kind of altars and sacrifices we read about in the old testament are no longer necessary today. "But instead, those sacrifices actually reminded them of their sins year after year." Hebrews  10:3 NLT As the sacrifices were made yearly, it was like a memorial being raised up for past sins which was not a great thing. So Jesus Christ came and gave Himself as the one perfect sacrifice on our behalf to wash away all our sins. "But this man, after he had offered one sacrifice for sins for ever, sat down on the right hand of God;" Hebrews  10:12 KJV  So we are no longer in need of the sacrifice of rams or bulls. Jesus does not need to shed His blood for us again. That one time is more than enough. What God requires from us now is first, to give ourselves totally to Him;  "And to love him with all the heart, and with all the understanding, and with all the soul, and with all the strength, and to love his neighbour as himself, is more than all whole burnt offerings and sacrifices."  Mark 12:33 KJV  and then to do what pleases Him. "By him therefore let us offer the sacrifice of praise to God continually, that is, the fruit of our lips giving thanks to his name. But to do good and to communicate forget not: for with such sacrifices God is well pleased."  Hebrews  13:15-16  KJV  God will always be pleased with and accept our sacrifices of praise and our good deeds.
Today I will describe the (personal) altar as the place of sacrifice and intimacy with God where we can draw strength. What is your own altar? Where do you draw strength from? It is not a physical place but could be in the place of praise, worship, prayer, meditation or in the study of the word. So when you come to that altar is it always clean or strewn with ashes?  Our sins are the ashes. Please note that the substance that is ash is the solid remains of a fire. Whenever something is completely burnt down the remains are ashes. But the ashes are never left there.  It would be unwise to do so. Remember that ashes are a powdery substance, therefore at the slightest hint of  breeze, they will spread all over the place and soil every thing they come in contact with. Ashes also have the potential of making it almost impossible to light another fire.
What ashes do we leave on our altars that we allow to soil everything around?  Those ashes could be anger, bitterness, jealousy, strife, fornication, adultery, wickedness and the like. They interfere with us having a deeper relationship with God. So we must make sure that all acts of sin are confessed so as not to keep the altar dirty. Otherwise we run the risk of putting out the fire on the altar. Yes when we harbour anger, bitterness and envy in our hearts it becomes difficult to praise and worship God freely. The fire of intimacy would be difficult to light when ashes are all over the place.
In Yoruba there is a proverb that goes "Ile oba t'o jo,  ewa lo bu si" this means that when the king's palace is burnt down, the rebuilt palace will be more beautiful. What happens is that all the debris and ashes from the inferno would be completely removed to make room for ample space to put up a better structure or palace. So it is the case that when we clean our altars by ridding ourselves of all negativity associated with sin, we are actually creating more room for a stronger and deeper relationship with God.
Let us not leave ashes on the altar.
TAKE THE ASHES OFF THE ALTAR , DO AWAY WITH SIN AND MAKE MORE ROOM FOR GOD.
OLUYINKA EGO-MARTINS ©