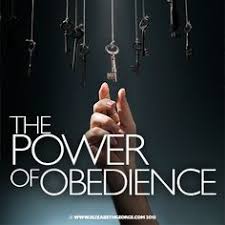 THE POWER OF OBEDIENCE
In a little while, Christians all over the world will be observing the Lenten season for the next forty days (when we will fast food and water till 6pm; excluding Sundays) [and perhaps fast festivities too] and we will be expected to be in a mood of sober reflection that should lead to repentance from our sinful ways. However, fasting and being penitent are not exclusive to Lent; we should be sober more often than not. Apostle Paul encourages us to be so, especially now.  "Teaching us that, denying ungodliness and worldly lusts, we should live soberly, righteously, and godly, in this present world;" Titus 2:12 KJV
The word "Lent" is an old English word which means "lengthen"; and traditionally is observed at the onset of spring, when nights become shorter and the days begin to get longer. The Lenten season typically recounts the events that led up to the triumphal entry of Jesus into Jerusalem and precedes Good Friday and Easter Sunday which serve as memorials to the crucifixion and the glorious resurrection of our Lord and Saviour, Jesus Christ. The basis of our faith today is that "JESUS IS ALIVE!"; and Jesus is alive because He was obedient to God the Father.
Jesus Christ is God! He is God the Son. "Though he was God, he did not think of equality with God as something to cling to. And being found in fashion as a man, he humbled himself, and became obedient unto death, even the death of the cross." Philippians 2 :6 & 8 NLT Jesus could have told the Father:- "No way am I going to get myself nailed unto a cross like a common criminal. It is not going to happen." But He did not. And though it was clear that it would be excruciatingly painful to go through the crucifixion He still told God to have His way. He obeyed and submitted completely to the will of God the Father.
Today we are blessed because of that obedience. Obedience is a powerful phenomenon. "Because one person disobeyed God, many became sinners. But because one other person obeyed God, many will be made righteous." Romans 5: 19 NLT Now isn't that something! We are Christians today because of that obedience. We are reconciled to God because of that obedience. Our prayers are answered because of that obedience. We can think of an eternity in Heaven because of that obedience. We can ask and receive because of that obedience.  Are we also obedient to God?  We may serve in the church, do all manner of "church related" activities; be on all committees, pay huge sums as tithes and offerings, attend all prayer meetings, fast as often as we can, praise and worship God all day; but they can never  be substitutes for obedience. God is so particular about our obedience to Him. He rejected Saul because of disobedience. "I am sorry that I ever made Saul king, for he has not been loyal to me and has refused to obey my command." 1 Samuel 15 : 11a  NLT God does not like disobedience at all. Please read the following"The servant who knows what his master wants him to do, but does not get himself ready and do it, will be punished with a heavy whipping." Luke 12:47 Good News Translation Well, there you have it. Is there something that God has called us to? And we are still contemplating, procrastinating about its authenticity because it seems bizarre? What could be more bizarre than asking one to bring their long awaited only offspring to the evening sacrifice as the offering?  What could be more bizarre than giving up one's only son as a sacrificial Lamb for sinners?  If  you think your calling is bizarre ask Joseph who had to deal with his virgin betrothed (Mary) who was pregnant with child.
Just like the hymn writer James Montgomery wrote in the third stanza of "Angels from the realms of glory" ; "Sages leave your contemplations"
Enough faffing around over analysing the instructions God has given to us.
Let us just get on with it, shall we! 
BE OBEDIENT! 
OLUYINKA EGO-MARTINS ©