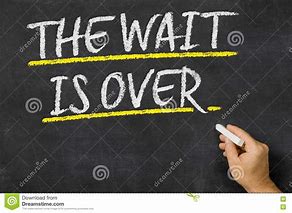 THE WAIT IS OVER.
Today, I am writing to encourage anyone who is or who has been waiting on the Lord for the fulfilment of a promise. That wait is now over. If you have been praying about a situation and it has not yet changed, fret no longer. God is here to turn things around in your favour.
When something goes wrong, God is aware. When things do not turn out as we plan or expect, God knows. Yet He allows them happen for reasons that we may never know on this side of eternity. The best thing to do when things go wrong is to accept the situation as quickly as possible and trust God at His word that says "all things will work together for our good."  When we struggle, we end up angry, bitter, hurt, pained and sad.  So rather than worry about it God tells us to do this: "Don't worry about anything; instead, pray about everything. Tell God what you need, and thank him for all he has done." Philippians 4:6 NLT God is big on thanksgiving. He really does want us to thank Him in all situations. Thanking God regardless of where we are is simply telling Him that we trust Him.
So how do I know God is stepping into our boats at this time to still the storms?  Why now? Why not three years ago? Why not last year when we really needed His divine intervention? The first thing to know is that God's time is always perfect. Besides it is written that "He has made everything beautiful in its time." Ecclesiastes 3:11a NIV God is always working behind the scenes in our best interest. When God sorts it out at His appointed time, it can never be anything less than beautiful.
Hear what the Lord is saying to us now: "I have long time holden my peace; I have been still, and refrained myself: now I will cry out like a travailing woman; I will destroy and devour at once." Isaiah 42:14 KJV God is simply telling us that He will give all it takes to come and rescue us. He will not wait any longer. He is putting an end to the problems and challenges. He is bringing utter destruction to every symptom that is ravaging our bodies. He is charging forth in His wrath to completely wipe out every enemy of our progress. All those wishing to truncate our destinies will be crushed and heard of no more.
He goes further to tell us this. "I will make waste mountains and hills, and dry up all their herbs; and I will make the rivers islands, and I will dry up the pools. And I will bring the blind by a way that they knew not; I will lead them in paths that they have not known: I will make darkness light before them, and crooked things straight. These things will I do unto them, and not forsake them." Isaiah 42:15- 16 KJV God is coming to frustrate all the plans of our enemies and make them useless and unproductive. God is bringing new opportunities to us and He will lead and guide us through. He is bringing clarity in the place of confusion. He is coming to take away every pain and discomfort that we have been dealing with. He is coming to see to us and see to our needs.  
This is not the time to complain about anything but to start thanking and praising God for not keeping silent. The case is settled. The battle has been won. God has given us victory. "The LORD will march forth like a mighty hero; he will come out like a warrior, full of fury. He will shout his battle cry and crush all his enemies." Isaiah 42:13 NLT
Therefore "Let them give glory to the LORD and proclaim his praise to the islands." Isaiah 42:12 NIV
COME ON THEN! GET READY!
WE ARE SET FOR EXCITING TIMES AHEAD.
THE WAIT IS OVER!
OLUYINKA EGO-MARTINS©