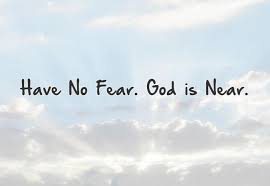 THERE IS NO NEED TO FEAR!
"Elijah was afraid and fled for his life. He went to Beersheba, a town in Judah, and he left his servant there." 1 Kings 19:3 NLT
Yes, you better believe it! The great prophet Elijah was afraid! He felt FEAR! That crippling, confusing, destructive emotion and feeling. So Elijah was aware that Jezebel was ready to finish him off the way he had just slain the prophets of Baal. And he was petrified. I found this very hard to believe.  This is Elijah; I mean Elijah who ran faster than a chariot, who called down fire, who did all kinds of exploits, here he was cowering in fear! What could have gone wrong?
Well, Elijah ran for dear life, he even asked God to take his life. Totally unbelievable!  But where was he running to? I have no idea. Yet as he ran God caught up with him, and asked him why he was running and then assured him all will be well. So here is the thing: No matter how far we run from  whatever troubles us, challenges us or threatens us, we can never run away or hide from the all-seeing eyes, the mercy or protection of God. So why bother running at all?  We are told to "be still and know that I am God. I will be exalted among the heathen, I will be exalted in the earth". Psalms 46:10 KJV
So maybe you are afraid right now because that problem, that situation looks like it will snuff the very life out of you, perhaps you are exhausted and feel like you cannot go another step without breaking down? Know now that the very best and strongest of people also have meltdowns.  But do not remain in the "melt down" position.  God assured Elijah that He had his back.  Whatever you are facing now, know for sure that God has your back and He will never leave you nor forsake you. "God is in the midst of her, she shall not be moved: God shall help her, and that right early." Psalms 46:5KJV
Elijah was not the only one consumed by fear at some point. Even after David had been anointed and after he had slain Goliath the giant, he still felt fear. That beat me. We are told of how he fled from Saul to Gath and started behaving like a lunatic. "David took these words to heart and was very much afraid of Achish king of Gath. So he pretended to be insane in their presence; and while he was in their hands he acted like a madman, making marks on the doors of the gate and letting saliva run down his beard.  Achish said to his servants, "Look at the man! He is insane! Why bring him to me?  Am I so short of madmen that you have to bring this fellow here to carry on like this in front of me? Must this man come into my house?" 1 Samuel 21:12-15 NIV  Fear will eventually make one appear foolish if one gives in to it. But before it got too late, David realised that God could take away his fear and he told us as much. "I prayed to the Lord,  and he answered me. He freed me from all my fears." Psalms 34:4 NLT
I am reminded of the first and last stanzas of a hymn I had learnt as a child in my native language,Yoruba, that goes thus "IT IS NOT MEET FOR SAINTS TO FEAR."
It Is Not Meet For Saints To Fear
Nor For Them To Despair,
For When They Least Expect His Help;
The Saviour Will Appear.
Lift Up Your Eyes And Wait His Help
It May Be Long But Wait;
Though The Promise May Tarry Long,
It Soon Shall Come To Pass.  Amen.
Apostolic and Pentecostal Hymns and Gospel Songs
Fear made Elijah run like a dog with its tail between its legs and fear made David act insane. What crazy things is fear making you do? Enough already. Fear is terrible. Let us not give in to it; "For God has not given us a spirit of fear and timidity,  but of power, love and self discipline." 2 Timothy 1-7 NLT
THERE IS THEREFORE ABSOLUTELY NO NEED TO FEAR.
OLUYINKA EGO-MARTINS ©