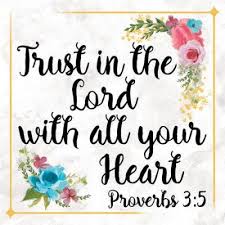 TRUST IN THE LORD ALWAYS
"We can make our plans but the Lord determines our steps." Proverbs 16:9
In just a few hours, we will officially bid farewell to the year 2018 and we will welcome in the year 2019. As always this out going year like any other before it has been a great year for some and a not so great year for others. But in all we give thanks to God. Regardless of whatever happened this year, next year is still another opportunity to start again, mend fences or bridges, expand our businesses, take that course and really just trust in the Lord again.  "Though he slay me, yet will I trust in him: " Job  13:15a KJV
God has integrity and He always does what He says He will do. It might not be at the time we expect or even the way that we expect.  But He will do it anyway. Remember when Lazarus died, Jesus tarried a while before going to attend to the sisters, Mary and Martha who had sent for Him. They thought all hope was lost when they had to bury their beloved brother but they knew not that Jesus never fails. "When Jesus heard that, he said, This sickness is not unto death, but for the glory of God, that the Son of God might be glorified thereby." John  11:4 KJV   We all know how the story ended. Lazarus was raised back to life. And God was glorified.
So let us trust God yet again for what He promised before even if we did not see that particular promise fulfilled in 2018. He will do it still. Go on! Be expectant.  Because your hopes will not be dashed. He will do it in His own way.  "For surely there is an end; and thine expectation shall not be cut  off." Proverbs 23: 18 KJV
So go ahead then and make plans for the new year  2019 but remember that God determines the path. So in in your own best interest, trust Him so that He can make your paths straight.
Thank you all for being part of a wonderful 2018.
Have a happy New Year and God bless us all.
OLUYINKA EGO-MARTINS ©