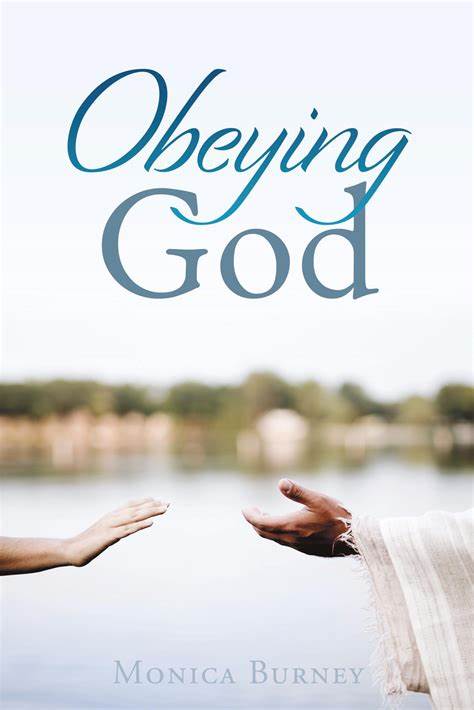 WHEN WE OBEY
When we obey God, great and wonderful things happen. We should therefore never underestimate the power of obedience. The word of God tells us that obedience is better than sacrifice. "But Samuel replied 'Does the LORD delight in burnt offerings and sacrifices as much as in obeying the LORD? To obey is better than sacrifice, and to heed is better than the fat of rams.'" 1 Samuel 15:22 NIV God had told king Saul to destroy the Amalekites and all their animals. Nothing or nobody was to be spared. But king Saul spared the fattest animals saying he wanted to offer them as sacrifice to God. The above scripture was the prophet Samuel telling Saul that his act of disobedience was not pleasing to God. Sadly, that disobedient act cost him his throne as the king of Israel and another; (David, the son of Jesse) became king in his stead. I pray that we will not disobey God to the point where we will lose what God Himself blessed us with.
Whenever God calls us to an assignment, the first thing He says to us is "Do not be afraid." He will further encourage us by telling us that He is with us or that He will be with us just to assure us that if we encounter obstacles on the way, He will not abandon us. He already knows there will be obstacles and he will help us through every last one of them and most times we come out stronger on the other side.
So it was that when Joseph, the husband of the Virgin Mary, found out that she had conceived of a child, (yet he had never been intimate with her) he wanted to put her away quietly, but the angel of the LORD came to him in a dream and explained the assignment to him.  We were never told that he accepted this without any difficulty but I strongly believe that as soon as Joseph obeyed, the journey to the Messiah's birth  and upbringing become easier, because He was endued with strength to carry on the assignment; otherwise it would have been impossible to be a physical, emotional and spiritual support to the Virgin Mary through everything she had to go through. "Because Joseph her husband was faithful to the law and yet did not want to expose her to public disgrace, he had in mind to divorce her quietly. But after he had considered this, an angel of the Lord appeared to him in a dream and said, 'Joseph son of David, do not be afraid to take Mary home as your wife because what is conceived in her is from the Holy Spirit.' " Matthew 1: 19-20 NIV
When we walk and work in obedience to God's instructions, we are protected from harm and every manner of evil. After the angel's first visit to Joseph, he paid yet another visit to warn him that Herod sought after the baby Jesus to kill him and that Joseph should go for some time to Egypt. Joseph obeyed yet again and he, Mary and Jesus were kept safe and secure. "And when they were departed, behold , the angel of the Lord appeareth to Joseph in a dream, saying, Arise and take the young child and his mother, and flee into Egypt, and be thou there until I bring thee word: for Herod will seek the young child to destroy him. When he arose, he took the young child and his mother by night, and departed into Egypt." Matthew 2: 13-14 KJV
While they were in Egypt and it was announced that Herod had died, an angel once again told Joseph in a dream to bring Jesus back to the land of Israel. On getting back, Joseph learnt that Archelaus, the son of Herod was king in Judah and he became afraid for his family and "being warned of God in a dream, he turned aside into the parts of Galilee." Matthew 2:22 KJV
It was a case of "one obedience at a time". All the instructions' were not down loaded to Joseph at once. He might have been overwhelmed or even confused about going back and forth to and from Egypt from where their ancestors had been slaves.
God does not need us to see the bigger picture all at once. If we did we might dig in our heels and stay put till calamity will come and meet us. God forbid!.  God wants us to trust Him completely. Let us learn from the example of Joseph, we were never told that he was analysing the instructions. He obeyed and as he took one step in obedience, another instruction came.
Could it possibly be that we are stuck in a place because we have not even taken the first step in obedience and we are still waiting for the A-Z to be unravelled before we step out?
Dear friends, let us trust God enough to obey Him at every turn. He will protect and shield us from every harm and fiery dart.
WHEN WE OBEY GOD; GREAT THINGS WILL HAPPEN!
OLUYINKA EGO-MARTINS ©