CHANGE YOUR THOUGHTS; CHANGE YOUR STORY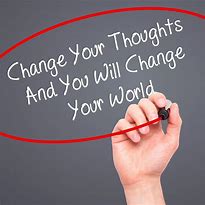 CHANGE YOUR THOUGHTS; CHANGE YOUR STORY.
There is a children's cartoon that has been replicated using different animals jumping on a bed. What happens is that as the animals are jumping on the bed, one by one they fall off and bump their heads until there is no animal left on the bed. Meanwhile, the moment the first animal had fallen off the bed and bumped its head, mummy in a panic had called the doctor and the doctor after treating the animal had instructed them saying "No more jumping, jumping on the bed!" Well sadly, the other animals did not heed the warning at all and eventually they all fell off and bumped their heads.
While wondering about this cartoon, it occurred to me that all of the animals kept doing the same thing and as such the result was always the same. The end result never changed. This led me to think about young Samuel who was being mentored by Eli the priest, in Israel. When Samuel was asleep, the Lord called him. Unknown to Samuel it was the Lord calling but he got up and ran to his mentor Eli to answer the call. Eli the priest told Samuel that he had not called him. (He might even have imagined that the young lad was hearing voices.) So Eli sent Samuel back to bed. This same routine was repeated three times. God would call Samuel, Samuel thinking it was Eli would run to Eli and Eli would send him back to bed. Three times they kept going back and forth with the same result. Then it dawned on Eli, that it must be the Lord calling. So Eli instructed Samuel to give a different response when he heard the call again. And this is what happened. "The LORD came and stood there, calling as at the other times, "Samuel! Samuel!" Then Samuel said, "Speak, for your servant is listening. And the Lord said to Samuel: "See, I am about to do something in Israel that will make the ears of everyone who hears about it tingle. At that time I will carry out against Eli everything I spoke against his family—from beginning to end. " 1 Samuel 3: 10-12 NIV As soon as Samuel answered differently to the call, the response he got was different: the Lord spoke to him. And things changed. Because Samuel had done something differently, everything else changed. The Lord began to speak to him, he grew spiritually and the Lord established him a prophet in Israel. "The Lord was with Samuel as he grew up, and he let none of Samuel's words fall to the ground. And all Israel from Dan to Beersheba recognized that Samuel was attested as a prophet of the Lord. The Lord continued to appear at Shiloh, and there he revealed himself to Samuel through his word." 1 Samuel 3: 19 – 21 NIV
Most times for there to be a remarkable change in our lives, we must do some things differently. And this is so especially if we have been doing things over and over in a particular way with no change in outcome. The very first thing is to do away with fear. "Be determined and confident. Do not be afraid of them. Your God, the LORD himself, will be with you. He will not fail you or abandon you." Deuteronomy 31: 6 Good News Translation It is fear that prevents one from taking bold steps to try a different approach, even when others have not yielded desired positive results. When we encounter problems, it should not be the time to lay the blame on something else or someone else. The Word of God tells us clearly that for there to be any real change or different outcome to a particular scenario we must change our mindset. "Don't copy the behavior and customs of this world, but let God transform you into a new person by changing the way you think. Then you will learn to know God's will for you, which is good and pleasing and perfect." Romans 12:2 NLT  
So whether it's a job, a career, a marriage, a business venture, an academic programme, raising children, a relationship that is not looking good or turning out positive results, we might want to start thinking differently and doing differently too. Only then are we guaranteed real and lasting change.
Let us not be like the monkeys or pandas who did not change their actions but kept jumping and falling off the bed until they all bumped their heads.
Let us be like Samuel, who did as his mentor, Eli, told him. He answered differently and got a different result. If we have tried it before and it did not work, we should change our way of thinking and do it differently.
TO CHANGE OUR STORY, LET US CHANGE OUR THOUGHTS.
OLUYINKA EGO-MARTINS©