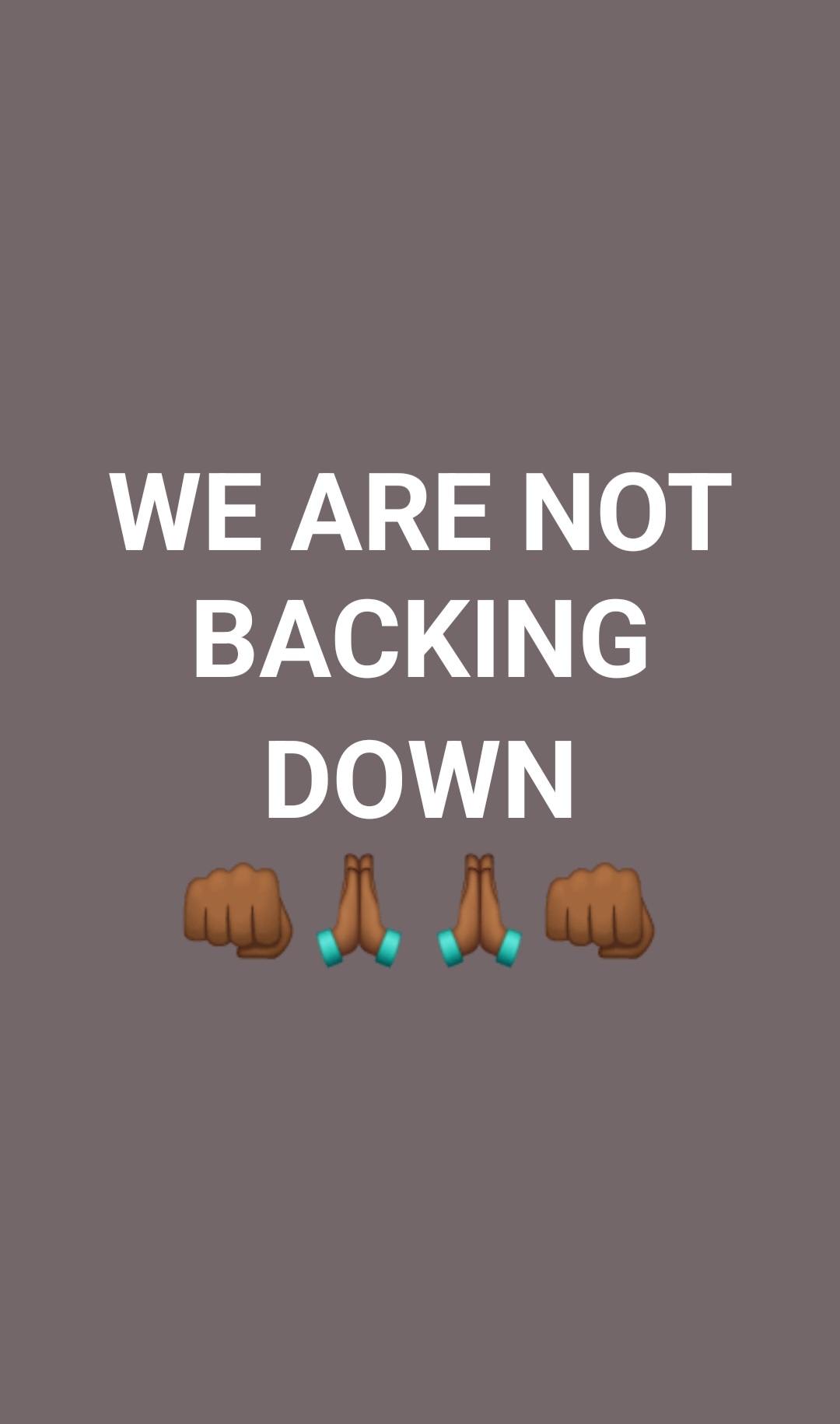 WE ARE NOT BACKING DOWN!
I can safely say that almost everyone in the world today is dealing with one challenge or another. And quite frankly that is just the way the world is designed so it should no longer come as a surprise to us when it seems that we just keep going from one thing to the other. We were forewarned when Jesus said: "I have told you all this so that you may have peace in me. Here on earth you will have many trials and sorrows. But take heart, because I have overcome the world." John 16:33 NLT If we know this then we should be sure that whatever we are going through now will not last forever. Smile and cheer up.
The apostles encouraged the early believers/converts saying this to them: "..where they strengthened the believers. They encouraged them to continue in the faith, reminding them that we must suffer many hardships to enter the Kingdom of God. " Acts 14: 22 NLT
I reside in Lagos, Nigeria and right now, the word "HARDSHIP" is just about the best way to describe our current situation as a nation. We are currently experiencing a fuel/diesel crisis never mind the fact that we are high up on the list of Petroleum Exporting Countries. Premium Motor Spirit is scarce and the price of diesel is going through the roof.  Most Nigerians at individual, corporate, state and federal levels have to generate their own power using either, diesel or petrol power generating sets, inverters or solar panels. These are not cheap options. Now coupled with the ever increasing prices of food stuff, goods and services, just how much  more can people endure? Yet as believers we are expected to "Consider it pure joy, my brothers and sisters, whenever you face trials of many kinds."  James 1:2 NIV
So this is where we have to tell ourselves that since God is with us on this journey then it must end well. Or as they say "It must end in praise." God Himself assures us saying "For I know the plans I have for you," says the Lord. "They are plans for good and not for disaster, to give you a future and a hope." Jeremiah 29: 11 NLT. If God says His plans are for a future that means our lives will not be cut short. Let us therefore be expectant knowing that there is something good to anticipate. Let that thought keep us on our toes. WE MUST NOT BACK DOWN.
Today I spent two hours and about forty-five minutes driving a routine fifteen minute journey. Every fibre of my being wants to scream out in frustration (which is not a bad thing really) but I AM NOT BACKING DOWN! I simply refuse to be overwhelmed by the situation. So I encourage myself and you too if you will, come with me to the ROCK! "But the LORD is my fortress; my God is the mighty rock where I hide." Psalms 94:22 NLT Let us take some time off and hide in the Rock of Ages that is cleft for us. If you can take ten minutes, or twenty or thirty or maybe even an hour or more snatch that time from the world of social media or all the depressing news around or all the Godless chatter that does nothing for the soul and listen to some calming hymns or worship songs. Come; let us find the peace that Jesus brings to us in His word as we take some time to study the bible. WE ARE NOT BACKING DOWN!
We must be practical now. There is just so much that our Pastor, Vicar or Prophet can do for us at this point. We are grateful for the prayer points and the corporate fasts but WE must work out our own salvation if we do not want to lose our minds. Salvation is much more than deliverance from sin and its consequences. Salvation is also about our total wellbeing. And that is who Jesus is to us. He came to preserve and deliver us from every manner of ruin, harm, loss or destruction. What better way to work out our salvation than by spending time with Jesus in His word. We must be intentional about this. We cannot afford to leave things to chance. This is not the time to go with the flow. This is the time to put everything into our relationship with God. We have no other help. If you are not already doing it, start befriending Him passionately. You will never regret it.
WE REFUSE TO BE OVERWHELMED
WE REFUSE TO BE FRUSTRATED.
WE ARE NOT BACKING DOWN!
OLUYINKA EGO-MARTINS©