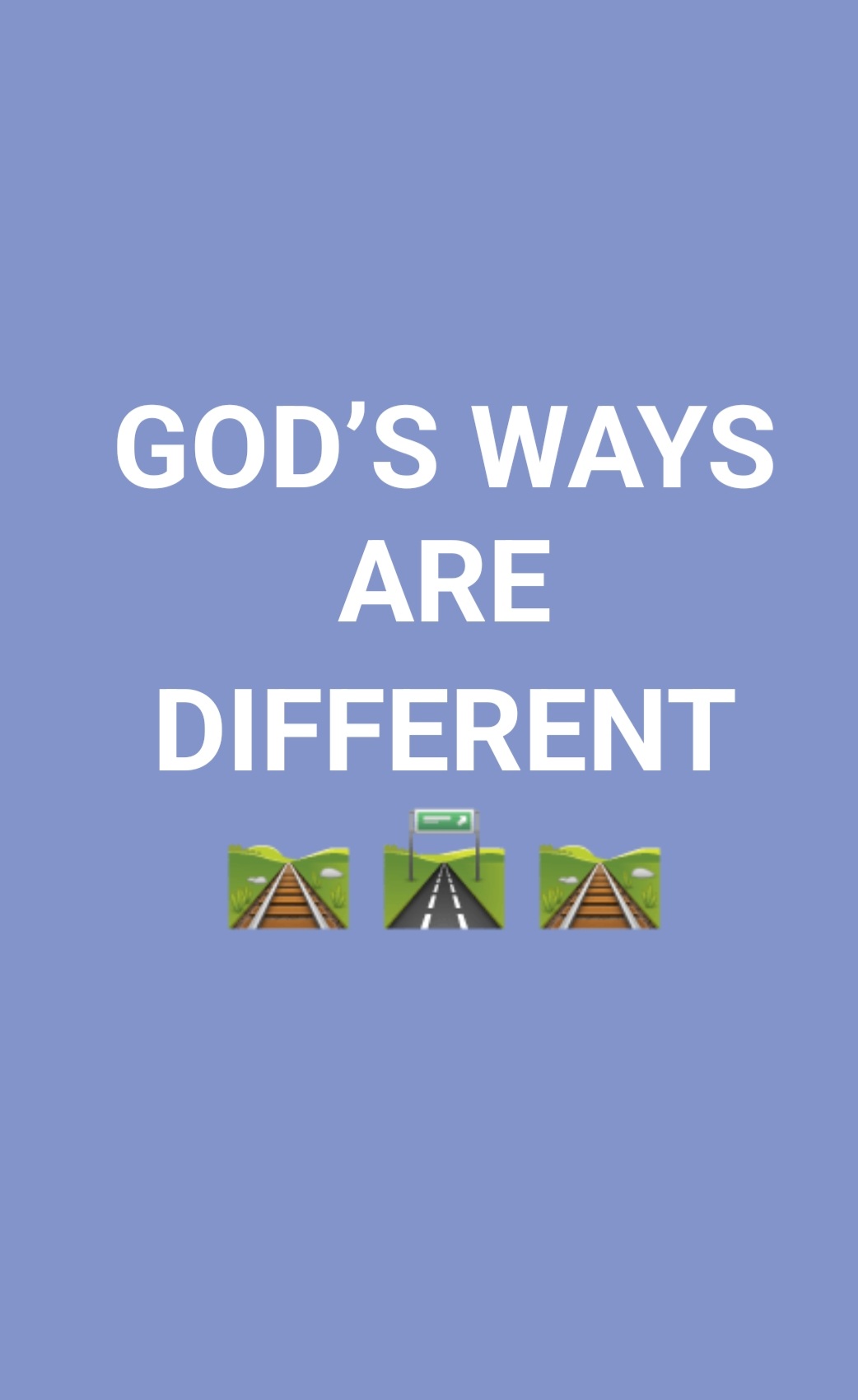 GOD'S WAYS ARE DIFFERENT.
As believers we are called to live victoriously. To be victorious simply means to live above challenges and never allow ourselves to be taken over by them. I realise that this is easier said than done but there is a place where we can achieve this when we learn to renew our minds.
It appears in some cases that a victorious position is not always obvious. It could present as a failure, a rejection or non achievement or even stagnation. Yet God can use any of these to build us up spiritually and physically. Jesus has already won the victory so though we wrestle, we are not wrestling from the position of the underdog. The enemy ought to be afraid of us.
But sadly it appears to be the case that at the slightest sight or sound of any opposition,  we cower away. Yet the truth is that the person who is wrestling from a place of victory, will see opposition and attacks as stepping stones to the next level and not as something that has come to snuff the very life out of them.
Let us see what happened to a group of people who were abducted and taken away to a foreign land. For them it was a nightmare. They feared that they woud perish in exile while those who were left behind believed they were the favoured ones to still be in their homeland. But God saw and planned differently. The Lord explained the situation to Jeremiah one of His prophets. This is their story.
"One basket had very good figs, like those that ripen early; the other basket had very bad figs, so bad they could not be eaten. Then the Lord asked me, "What do you see, Jeremiah? "Figs," I answered. "The good ones are very good, but the bad ones are so bad they cannot be eaten." Then the word of the Lord came to me:  "This is what the Lord, the God of Israel, says: 'Like these good figs, I regard as good the exiles from Judah, whom I sent away from this place to the land of the Babylonians. My eyes will watch over them for their good, and I will bring them back to this land. I will build them up and not tear them down; I will plant them and not uproot them.I will give them a heart to know me, that I am the Lord. They will be my people, and I will be their God, for they will return to me with all their heart. Jeremiah 24: 1b- 7 NIV
In the above passage, we see the Lord refer to the people in Babylonian captivity as the good ones.  Note also that "He sent them  away." The emperor of Babylon would have thought they had done a great job but  the Lord had orchestrated it. And in that seemingly unfortunate situation, God built them  up possibly by allowing them pass through some experiences that would eventually leave them well equipped for the next assignment. God protected them and saw that no harm came to them.
Straight away it is clear that God does things and sees things differently. Therefore we should never allow our judgment or opinion be clouded by what we see on the surface. There is always an underlying factor which is not seen. God is at liberty to bring victory anyway he deems fit.
What we interpret as a misfortune may be God's way of getting us ready for greater things ahead. All things will work together for our good because we love the Lord and are the called according to His purpose. We must believe this promise completely and trust that God will never allow the enemy to triumph over us.
Dear friends, it is written thus: "No temptation has overtaken you except what is common to mankind. And God is faithful; he will not let you be tempted beyond what you can bear. But when you are tempted, he will also provide a way out so that you can endure it." 1 Corinthians 10:13 NIV
For this reason, let us be assured that whenever we are facing challenges God will use them to bring out the very best in us.
We call them problems God calls them a building up and a taking root.
GOD'S WAYS ARE DIFFERENT.
OLUYINKA EGO-MARTINS©