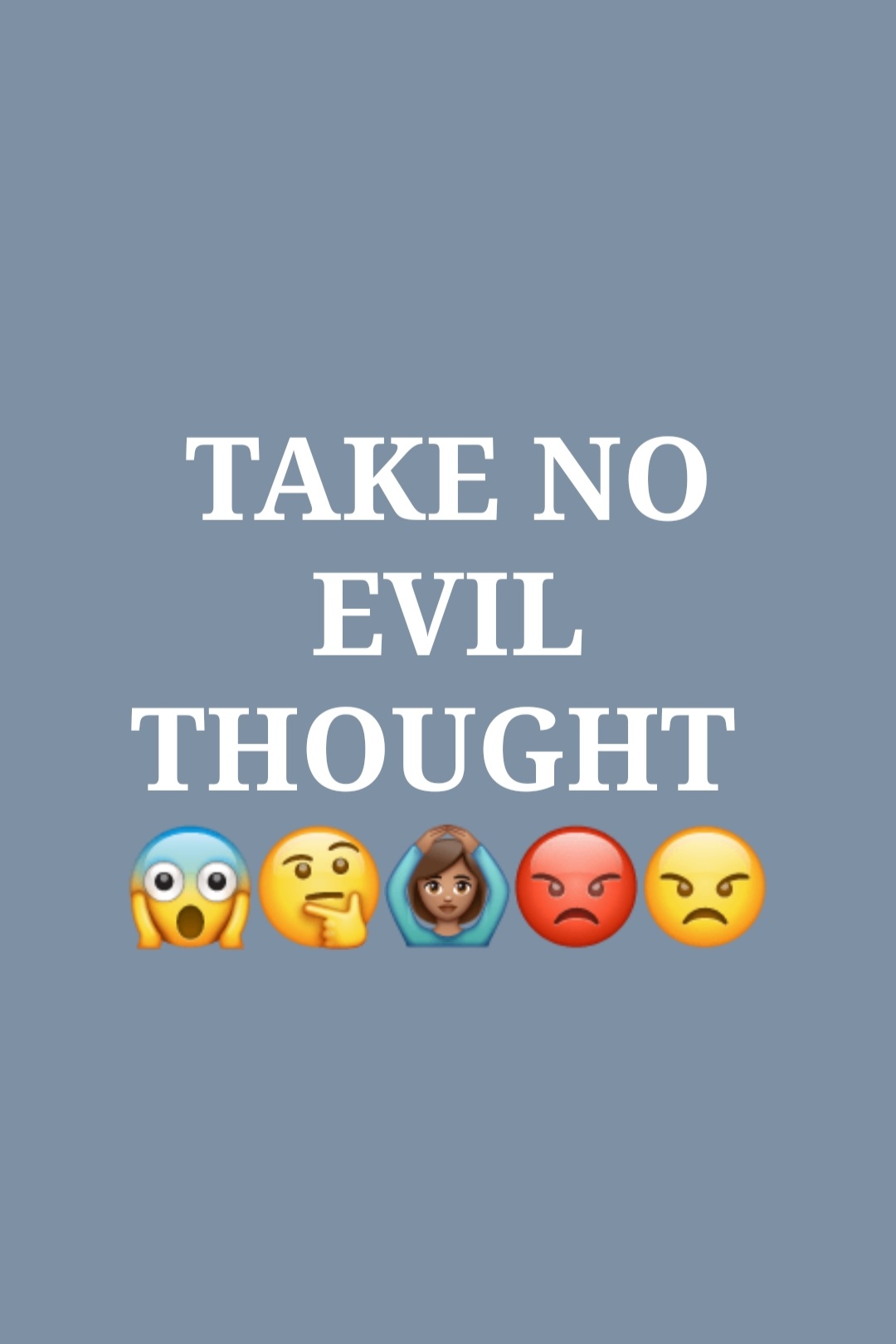 TAKE NO EVIL THOUGHT 
A few weeks ago, I was weighed down. I was getting tired ? ? of the story and situation of my country Nigeria as a nation. That how could all manner of evil and lawlessness continue to thrive unabated? It seemed like nobody in authority was doing anything. Everything was coming undone at the seams.
And I realised that my mind had begun to take all kinds of evil thoughts. Frustration was not far away, mental fatigue. The insecurity in the country was leading me to panic and be anxious. Slowly I began to slip into a place of fear. I was disturbed. And then suddenly, I caught myself and jumped from where I sat shouting "Noooo. I am taking no evil thought." I began to tell myself that God loves me and He will protect me and my family.  That He will not allow things to continue this way. I kept repeating this to myself until it sank into my subconscious and obliterated every anxiety and panic. Having the knowledge and assurance that God loves us is very powerful.
In His sermon on the mount Jesus said to us "take no thought ….."
"Therefore I say unto you, Take no thought for your life, what ye shall eat, or what ye shall drink; nor yet for your body, what ye shall put on. Is not the life more than meat, and the body than raiment?" Matthew 6:25 KJV
Now I have often wondered why it is written as "take no thought" and it became clear to me that the thought comes from a place outside of ourselves. This tells me that we have a choice to take OR NOT to take. So we can reject them. Therefore some thoughts should not even be allowed to take root in our minds at all. As soon as they come, please DO NOT TAKE THEM. The action of not taking evil thoughts has to be very conscious and intentional. We must be careful what we are exposing ourselves to on a daily basis. A diet of bad news from sun up to sun down is absolutely unwholesome and can ultimately have unpleasant consequences.
We must all find a safe place, a place of peace where our minds can rest. There is no better place than the word of God as we meditate on it, the place of praise as we praise God for who He is and the place of prayer as we pray the very words we meditate upon. Let those words fill our thoughts and let all manner of evil, destructive and depressing thoughts be gone.
We have been advised thus: "In conclusion, my friends, fill your minds with those things that are good and that deserve praise: things that are true, noble, right, pure, lovely, and honorable." Philippians 4:8 Good News Translation And the flip side of that is when we fill our minds with negativity we begin to feel down and moody. That does not help anyone.
The words of the hymn "Begone Unbelief" by hymn writer John Newton and especially the first and second stanzas are very appropriate whenever we feel any unhealthy thoughts brewing or lingering.
BEGONE UNBELIEF 
1. "Begone unbelief,
My Savior is near,
And for my relief
Will surely appear:
By prayer let me wrestle,
And He wilt perform,
With Christ in the vessel,
I smile at the storm."
2. "Though dark be my way,
Since He is my guide,
'Tis mine to obey,
'Tis His to provide;
Though cisterns be broken,
And creatures all fail,
The Word He has spoken
Shall surely prevail."
John Newton 1725-1807
Let all doubt, fear, anxiety and depression BEGONE.
CHRIST our Saviour is near.
THEREFORE TAKE NO EVIL THOUGHT FROM ANYWHERE OR ANYONE.
OLUYINKA EGO-MARTINS ©