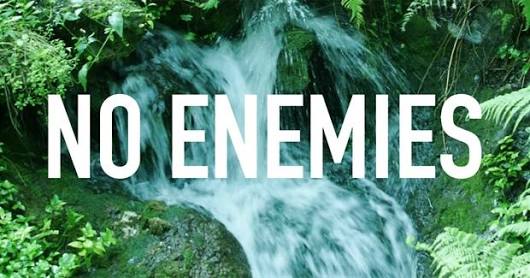 DO NOT BE AN ENEMY
"Water; e no get enemy" – This is the title of one of late Fela (Anikulapo) Kuti's songs. (And it is quite a nice song, if you ask me. The melody is good but the horn arrangement is fantastic. A must listen!) This song eulogises water; it talks about waters benefits, praises it and says how it is indispensable. What got me thinking was when he said "If you fight am, unless you wan die" ! (which literally means that if you choose to have nothing to do with water,  you are as good as dead.)
I couldn't agree more with Fela Kuti. We cannot do without water, after all more than half of the human body is made up of water. So water is a necessity for absolutely everything we need for our survival on planet earth. However if for any reason water is not accessible as a result of pollution, contamination from industrial waste or oil spillage, war or drought ; there will be hazardous consequences which could ultimately lead to death and that is the very worst thing that could possibly happen when water is taken away from any living being.
So everyone knows just how important water is to life but it's absence can lead only to a  "physical death;" It could be the case  that if a person were to die physically from dehydration, they could still make it to heaven and live forever with our Lord and Saviour, Jesus Christ, if they had accepted Him as the Son of God and their personal Saviour when they were alive on this side of eternity. On the flip side of that is the case where someone else might have all the water in the world at their disposal and for their use. Artesian water, distilled water, flavoured water, mineral water, sparkling water, spring water, you name it ; and still not know the Lord Jesus, let alone accept Him as their Lord and personal Saviour.  And though they might live to a good old age at the end when they die a physical death, it will NOT take them to an eternity with Jesus.  See what happened to such a person:
"Now there was a certain rich man who was habitually dressed in expensive purple and fine linen, and celebrated and lived joyously in splendor every day. And a poor man named Lazarus, was laid at his gate, covered with sores.  He [eagerly]longed to eat the crumbs which fell from the rich man's table. Besides, even the dogs were coming and licking his sores.  Now it happened that the poor man died and his spirit was carried away by the angels to Abraham's bosom (paradise); and the rich man also died and was buried.  In Hades (the realm of the dead), being in torment, he looked up and saw Abraham far away and Lazarus in his bosom (paradise).  And he cried out, 'Father Abraham, have mercy on me, and send Lazarus so that he may dip the tip of his finger in water and cool my tongue, because I am in severe agony in this flame.' Luke 16 :19 – 24 AMPLIFIED
Lazarus went to heaven not because he was poor. The rich man ended in hell not because of his wealth. One knew and accepted Jesus Christ as Lord and Saviour. The other did not. The absence of Jesus Christ in any human life will eventually lead to a death far worse than a physical death that may result from the loss or removal of water from such a life.
"Ye adulterers and adulteresses, know ye not that the friendship of the world is enmity with God? whosoever therefore will be a friend of the world is the enemy of God."  James  4:4  KJV
Above is just one of the things that will make one an enemy of Christ.  Be wise therefore.  Do not be an enemy of Christ.
"Be wise now therefore, O ye kings: be instructed, ye judges of the earth. Serve the LORD with fear, and rejoice with trembling.  Kiss the Son, lest he be angry, and ye perish from the way, when his wrath is kindled but a little. Blessed are all they that put their trust in him. Psalms 2: 10 – 12 NLT
Borrowing from Fela Kuti's words "If you fight Jesus, you want to die"!
Please do not fight Jesus. Make Him your friend.  Choose Him above worldly pleasures. It will be your best decision ever.
OLUYINKA EGO-MARTINS ©