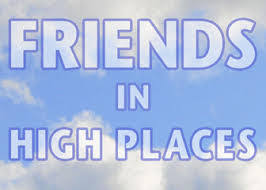 FRIENDS IN HIGH PLACES.
A couple of weeks ago,  a young girlfriend of mine got married. The ceremony was a huge success and we are truly thankful to God for that. The wedding party was a whole 'nother level of entertainment of guests. It was an "A-list" event having in attendance the who is who of Lagos elites and socialites. So about the guest list; there were former federal and state permanent secretaries, ministers, professors from renowned ivory towers, captains of industries, commissioners, senators, honourable members of state and federal houses of assembly, governors,  former governors, governors in waiting, army generals, the list is endless. And all gathered together at the request of the parents of the bride and the groom to celebrate a union of love. Here is rejoicing with both families and wishing the couple a great happily ever after.
Naturally everyone would love to have friends in "high places" of "timber and calibre"; "A-listers". Well it does help somewhat; or does it not? So here is the question; Who are your friends in high places?  Who are your "A-list" go-to people? I ask this question not relating to guests you would like to have in attendance at your event but  regarding who you can call on to get you out of a fix when the chips are down or who can get what you want done very well and very quickly. Do you have any? Well you might want to just go through your contact list or address book and see if there are people you can call on who would bend over backwards to see that you are sorted out.
While you are still checking your contacts to see who would give you the shirt off their back, let me introduce you to my friends in high places. They always have my back. "God is our refuge and strength, a very present help in trouble." Psalms  46:1 KJV They are never too busy to answer when I call and they actually take my calls personally. They do not delegate PAs or SAs to attend to me. "Call unto me, and I will answer thee, and shew thee great and mighty things, which thou knowest not." Jeremiah  33:3 KJV But they make sure that my security detail is top notch.  "For he shall give his angels charge over thee, to keep thee in all thy ways." Psalms  91:11 KJV  Whenever I get into trouble, which is very often,  they do not give excuses to not show up.  "And call upon me in the day of trouble: I will deliver thee, and thou shalt glorify me." Psalms  50:15 KJV They are very protective of me. Because they make sure that absolutely no harm comes to me.  "There shall no evil befall thee, neither shall any plague come nigh thy dwelling." Psalms  91:10 KJV  They never tire of me. No matter how many times a day I call, it is not possible for me to wear them out.  They are always ready to  come to my rescue. "And it shall come to pass, that before they call, I will answer; and while they are yet speaking, I will hear." Isaiah  65:24 KJV I am just that special to them. Bottom line is they treat me like royalty. Well they say that I am. "But ye are a chosen generation, a royal priesthood, an holy nation, a peculiar people; that ye should shew forth the praises of him who hath called you out of darkness into his marvellous light: 1 Peter  2:9 KJV  I could go on and on but then I would never get round to introducing them to you. So here goes. Please meet:
God- The Father,  
God- The Son,
God- The Holy Spirit.
They are my friends in high places. And they are really Who matters. Now the trip is that they can be your friends too. They do not discriminate! "Then Peter opened his mouth, and said, Of a truth I perceive that God is no respecter of persons": Acts  10:34 KJV
So there you go. If they are not already on your contact list, what are you waiting for? Befriend them now. Do not leave it till tomorrow. It just might be too late. They will help you through your journey.
OLUYINKA EGO-MARTINS ©