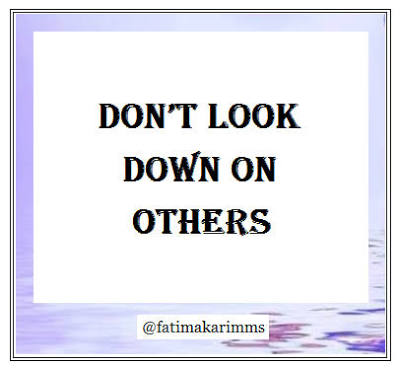 DO NOT LOOK DOWN ON THEM
One thing you will find out in life is that help comes from the least expected places. For this reason, it is important to keep an open mind when ever you meet someone and try to not look down on anybody regardless of what they do or where they come from, for you never know who is a helper in disguise. See what happened when the following people did not look down on others.
There was once a great man, an army commandant who had won many victories for his country and was well respected by his people. Sadly he had a terrible skin disease which made him stick out like a sore thumb but which incidentally did not stop him from doing his work diligently. One day, his wife's maid told her mistress about a prophet she knew who could cure the commandant. I have no idea what kind of relationship existed between the maid and her mistress. But when the maid came forward with the advice, not only did her mistress take it she also passed it on to her husband who heeded the advice. "One day the girl said to her mistress, "I wish my master would go to see the prophet in Samaria.  He would heal him of his leprosy." 2 Kings 5:3 NLT She was obviously not dismissed as an insignificant member of their household. The story ended on a victorious note as Naaman the army commandant was completely healed of his leprosy.  "So Naaman went down to the Jordan River and dipped himself seven times, as the man of God had instructed him. And his skin became as healthy as the skin of a young child, and he was healed. " 2 Kings 5:14 NLT 
The story was told of a woman who walked the "red light" district. Besides her patrons who derived pleasure from her company it was most unlikely that anyone else took her seriously.  Yet she played a major role in  helping the Israelites get to their promised land.  The two spies Joshua and Caleb who believed in the potential of the promised land were hidden and protected by Rahab , the prostitute, when the king sent men to come and take them. The two spies did not look down on her neither did they refuse to be associated with her but rather they let God use her to spare  their lives. Joshua 2: 1-15
A young lady Ruth had lost her husband. When her mother in-law, Naomi,  told her she was not obliged to stay on as a widow but that she could go back home to her people and perhaps remarry, Naomi never pointed accusing fingers at Ruth or cast her away as a stranger because she was of a different tribe. So Ruth, the Moabitess stayed back with her mother in law, Naomi and took care of her. She later married Boaz. God restored to Naomi what she had lost and Ruth ended up in the genealogy of our Lord and Saviour Jesus Christ.           Ruth 1 -4 NLT
A young girl had gotten pregnant outside of wedlock. And worse still her fiance had not been intimate with her. So who was the father of the unborn child she was carrying? This was seriously scandalous. But her fiance was a God-fearing man and he did not splash her face all over social media, disowning the pregnancy and disgracing her. He had had a dream in which he was instructed to stay by her and act like nothing out of the ordinary had happened. The young man betrothed to the young girl, Mary,  was Joseph and thus, Jesus Christ our Saviour was born.
The house help, a captive from Israel; Rahab, the prostitute; Ruth, the young widow and Mary, the young  unmarried pregnant girl; all these perhaps seemed like unlikely candidates to be used by our Heavenly Father to do what He needed to do. Yet He used them and He will do it again if He has to do so. Sometimes they are victims and other times they knowingly get themselves into these situations. But regardless of how they got there it is not our place to judge people. Let God use whom He will. Any which way He will never fail. "For I know the plans I have for you" says the Lord.  "They are plans for good and not for disaster, to give you a future and a hope." Jeremiah 29:11 NLT
You never know who God is going to use to change things around for the better for you. So never look down on anyone they just might be God-sent.
OLUYINKA EGO-MARTINS ©