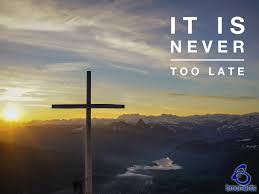 IT IS NEVER TOO LATE
Yesterday, on my way home from work, I stopped to buy fuel. While the attendant was filling my tank, I allowed my eyes to roam randomly around the petrol station and then they landed on a police van. I observed a man in plain clothes cleaning and wiping down the dust and dirt from the van. And then my eyes eventually landed on a uniformed policeman seated in the passenger seat beside the driver chewing or snacking on something from a black plastic bag. Before I could say "Hallelujah" this policeman had finished eating the contents of said plastic bag, bunched it up in his fist and tossed it out of the wound down window towards the wall of the petrol station. I shook my head and sighed; thinking "when will we learn to stop throwing rubbish out onto the ground?" and as if this uniformed policeman heard my thought, before my very eyes, he got out of the van, went and picked up the plastic bag along with some other thrash that was sitting on the ground beside the bag and took them to a nearby refuse bin that had been provided by the petrol station.
I immediately forgot the initial irresponsible act of throwing the rubbish out of the van. He had suddenly impressed me. And I found myself being quite pleased with what he had just done. I am not aware that anyone had called his attention to the fact that it was wrong to throw dirt around or told him to pick up the mess. All I know is that he got out of the parked van and picked up the dirt. And the spot that once was a sight to behold was now neat and clean. For me the important thing was that he went back and did the right thing.
This morning, when I remembered what had happened my mind kept wandering and then I was reminded of the woman who was caught in the act of adultery. When she was brought before Jesus and they asked Him if she should be stoned to death, Jesus said the one without any sin should cast the first stone. As all her accusers disappeared, Jesus also said He would not condemn her and she should go and sin no more. I also remembered the thief who was crucified with Jesus but who asked Jesus to remember him in paradise. Following from the two stories above, I would like to point out that whenever Jesus cleanses, forgives or pardons, it is completely. Nobody has the authority to come back and charge you for that wrong again.
Therefore I come with some encouragement today that God is Merciful. If we have done wrong in any way whatsoever, let us not hide and let us not try to cover the wrong. Let us confess and acknowledge our sins. "If we confess our sins, he is faithful and just to forgive us our sins, and to cleanse us from all unrighteousness." 1 John 1:9 KJV  Jesus did not condemn the adulterous woman and He assured the thief on the cross that he would enter with Him into paradise. The woman recognised Jesus as the Messiah and the thief recognised Him as the Son of God. And as Jesus pardoned them, their sins were immediately wiped away.
As Christians all over the world are observing Lent, it is a good time for us to recognise Jesus as our Lord, our Saviour and our Redeemer. It is also a good time to turn away from all manner of sin "Repent ye therefore, and turn again, that your sins may be blotted out, that so there may come seasons of refreshing from the presence of the Lord. " Acts 3: 19 American Standard Version.
In conclusion, all I can say is that the policeman who went back to pick up the debris had actually repented. And as he picked up the mess he had made before, the place became clean with no reminder of any dirt or filth. And that is how Jesus cleans. When we repent and return to Him, He makes us truly whole and truly clean.
No matter how far down you have cascaded, it is never too late to return and come back to Jesus.
OLUYINKA EGO-MARTINS ©