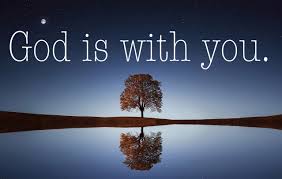 WHEN GOD IS WITH YOU
So much is happening in the world right now. Each day the news is filled with stories of wars and rumours of war. People are afraid. The coronavirus pandemic rages on and some people fear so much that it is only a matter of time before they become a statistic of COVID 19. This need not be so. Fearfulness and panic should be far removed from us.
And this can be only if we build up on the personal relationship we have with our Heavenly Father. Now more than ever before is the time to nurture this relationship. It is beyond attending church on Sundays or any other day for that matter: (for how many are at liberty to attend physical church services these days? very few.); it is beyond religious denominations, it is beyond General Overseers, Bishops and Pastors. The chips are down and it is between us and God. Period!  Being in a relationship with God means we can be sure that God is with us. So when God is with us we are good. We are fine. We are sorted. It is not about our physical attributes or prowess, material possession or intellectual capabilities that we are going to be kept through this plague.  The relationship with God must exist and we must spend time nurturing it to see it flourish.  "Now the Spirit of the Lord had left Saul, and the Lord sent a tormenting spirit that filled him with depression and fear." 1 Samuel 16: 14 NLT Saul was the king of Israel at that time. You can be sure that the wealth and military might of Israel were all at his disposal but the Spirit of God had left him. (this had happened because Saul had disobeyed God and had tried covering his disobedience with a sacrifice. A story for another day.) On the other hand, David was a shepherd,  tending his father Jesse's sheep, in the wild. He had handled a lion and a bear when they attacked his flock. He had stood up to a giant and killed him. Not because he was wealthy, the sheep were not his and not because of his intellect for he would never have gone to face Goliath seeing as he was just a young lad. But he was able to do these because God was with him.  "Then Samuel took the horn of oil, and anointed him in the midst of his brethren: and the Spirit of the LORD came upon David from that day forward. So Samuel rose up, and went to Ramah." 1 Samuel  16:13 KJV When God is with us, we become bold and can operate in strength beyond our natural abilities.
However, when God is not with us; then fear sets in, so does panic accompanied by depression.  Some of us are courting the daily statistics of COVID 19 as though we were in a romantic relationship with them. First thing in the morning we are checking how many new cases; how many new COVID 19 deaths locally and globally! How can that ever be of any help to us? We should be spending more time in the word of God. When God is with us, our minds will be at peace.  "Thou wilt keep him in perfect peace, whose mind is stayed on thee: because he trusteth in thee." Isaiah  26:3 KJV Studying the word of God will keep our minds on Him and not on daily deaths from COVID. It is from God's word that we will get the full assurance that He will not allow any evil to befall us nor will he allow any plague to come near our dwelling. "Because thou hast made the LORD, which is my refuge, even the most High, thy habitation: There shall no evil befall thee, neither shall any plague come nigh thy dwelling." Psalms  91:9 -10 KJV
When God is with us our enemies will be afraid of us. On two occasions when Saul tried to kill David and David escaped his spear, Saul became afraid of him. "And Saul cast the javelin; for he said, I will smite David even to the wall with it. And David avoided out of his presence twice. And Saul was afraid of David, because the LORD was with him, and was departed from Saul." 1 Samuel  18:11 -12 KJV
When God is with us,  we will be encouraged and helped by him. "Don't be afraid,  for I am with you. Don't be discouraged,  for I am your God. I will strengthen you and help you. I will hold you up with my victorious right hand." Isaiah 41:10 NLT
Let us therefore do our best to see that we make this relationship a priority , if it isn't already. And I trust that the dark days will no longer appear gloomy. For "This is the message we heard from Jesus and now declare to you: God is light and in him is no darkness at all." 1 John 1:5 NLT
OLUYINKA EGO-MARTINS ©