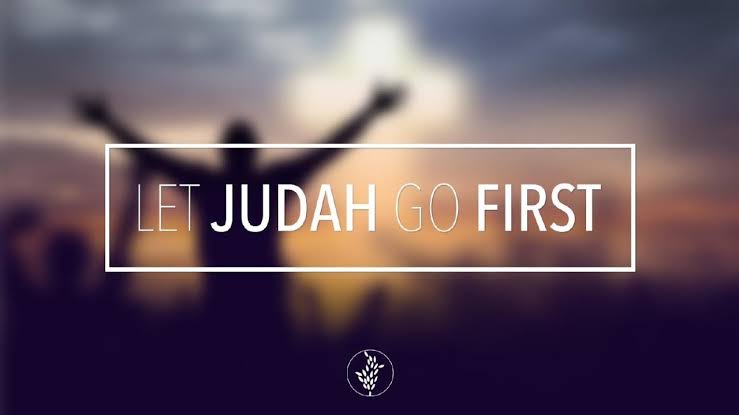 LET JUDAH GO FIRST
Growing up in the Anglican Church was a blessing. More than anything else, I loved the hymns. It was a delight to get to church early and watch the procession as the cross bearer, the choir, the verger and then the priests sang a processional hymn as they came into the sanctuary in their flowing robes. Most of these hymns were in Praise and exaltation of the God of creation. A favourite hymn of mine was (and still is) "Praise my soul the king of heaven" – Henry Francis Lyte (1834) And I particularly love the Tune: Regent Square. If I missed the procession it was as if I had missed the whole service. As I grew older, I began to attend some Pentecostal churches and the services mostly always began with praise and worship songs too.
I believe that the practice of starting a church service or a prayer meeting with praise songs is directly connected to this scripture:   "Enter into his gates with thanksgiving, and into his courts with praise: be thankful unto him, and bless his name." Psalms 100:4 KJV  Praise, means Judah in Hebrew. Judah was the fourth son of Israel from his first wife, Leah. Leah had been given in marriage to Israel (a man who did not love her) and she had hoped to win his affection after she had borne him three sons. But nothing changed. Then she resigned herself to give praises to God. "And she conceived again, and bare a son: and she said, Now will I praise the LORD: therefore she called his name Judah; and left bearing." Genesis 29: 35 KJV
The story of Judah is an interesting one. But that is for another day. Judah had many sons and one of them was called Perez. Perez means to Break forth or Breakthrough in Hebrew. In the genealogy of Jesus according to Matthew 1:3 it is written thus: "and Judah begat Perez and Zerah of Tamar; and Perez begat Hezron; and Hezron begat Ram;" Matthew 1: 3 English Revised Version The word beget is a verb that means to cause or to bring about. If we translate the above scripture, it literally means Praise causes Break through. It is clear that God expects us to put Judah (PRAISE) first, because that always brings Him into our situations. "The people of Israel arose and went up to Bethel and inquired of God, "Who shall go up first for us to fight against the people of Benjamin?" And the LORD said, "Judah shall go up first."." Judges 20: 18 ESV   Judah was not the first child yet he was asked to go first.ahead of his older siblings.
When the children of Israel went to take Jericho, the Lord gave instructions for the Israelites to march round the city once, everyday for six days and on the seventh day they should go round seven times. "When Joshua had spoken to the people, the seven priests carrying the seven trumpets before the Lord went forward, blowing their trumpets, and the ark of the Lord's covenant followed them." Joshua 6: 9 NIV No doubt the priests were blowing praises, sending the praise before them. And they were victorious as the walls of Jericho tumbled down. There was a similar experience as three nations rose up against Israel when Jehoshaphat was king. He put Praise first and look what happened! "After consulting the people, the king appointed singers to walk ahead of the army, singing to the Lord and praising him for his holy splendor. This is what they sang: "Give thanks to the Lord; his faithful love endures forever!" At the very moment they began to sing and give praise, the Lord caused the armies of Ammon, Moab, and Mount Seir to start fighting among themselves." 2 Chronicles 20: 21 – 22 NLT As the praises went up, they were breaking through and the enemies were defeated.
Two prisoners praised their way out of prison. The prison doors literally broke open and they came forth. This is the story of Paul and Silas. "Around midnight Paul and Silas were praying and singing hymns to God, and the other prisoners were listening. Suddenly, there was a massive earthquake, and the prison was shaken to its foundations. All the doors immediately flew open, and the chains of every prisoner fell off!" Acts 16: 25-26 NLT
Dear friend, I have no idea what you are up against right now or how long you have been dealing with a situation. Perhaps it is time to take a praise break and let your Judah go first. It is time to enter His gates with thanks and His courts with praise.
Let not our hearts be troubled. Let us put Judah first and we will breakthrough.
OLUYINKA EGO-MARTINS©