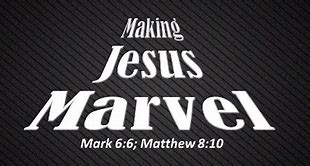 LET US MAKE JESUS MARVEL
I was pondering on the word "marvel" a little while ago and I decided to check it up. All that kept coming up was marvel studios, marvel movies, marvel comics; generally it was all about the Marvel Television company. That did not satisfy my curiosity so I went off to the dictionaries and found that the word Marvel is a noun and a verb. According to the Oxford dictionary the noun marvel means: a wonderful or astonishing person or thing. Aha! Just what I was looking for! I thought that might be a nice way to describe Jesus. Going a little further, I checked out some synonyms for the word marvel and here is what I found: miracle, wonder, phenomenon, splendour and sensation. And this is who Jesus is to me.
He is a miracle worker; He is full of wonders; He displays His splendour in nature, in us and through us; He does phenomenal and extraordinary things. Jesus is not only a Marvel, He does marvellous things too which naturally makes people marvel at Him. But I also discovered that there are things that we can also do that would make Jesus marvel or wonder at us.
In scripture, there was the story of the centurion whose servant was critically ill and he sought Jesus to heal his servant. Here is the story.
"When he entered Capernaum, a centurion came forward to him, appealing to him, "Lord, my servant is lying paralyzed at home, suffering terribly." And he said to him, "I will come and heal him."But the centurion replied, "Lord, I  am not worthy to have you come under my roof, but only say the word, and my servant will be healed. For I too am a man under authority, with soldiers under me. And I say to one, 'Go,' and he goes, and to another, 'Come,' and he comes, and to my servant, 'Do this,' and he does it." When Jesus heard this, he marveled and said to those who followed him, "Truly, I tell you, with no one in Israel have I found such faith." Matthew 8:10 English Standard Version
There was another story in scripture when Jesus went to his home country Nazareth but was unable to do miracles therein. Here is that story too.
"And he went out from thence, and came into his own country; and his disciples followed him. And when the sabbath day was come, he began to teach in the synagogue: and many hearing him were astonished, saying, From whence hath this man these things? and what wisdom is this which is given unto him, that even such mighty works are wrought by his hands? Is not this the carpenter, the son of Mary, the brother of James, and Joses, and of Juda, and Simon? and are not his sisters here with us? And they were offended at him. But Jesus, said unto them, A prophet is not without honour, but in his own country, and among his own kin, and in his own house. And he could there do no mighty work, save that he laid his hands upon a few sick folk, and healed them. And he marvelled because of their unbelief. And he went round about the villages, teaching." Mark 6: 1-6 KJV
In the two stories above we see Jesus marvel. In the first story the display of faith in Him by a non-Jew was enough to amaze Him. In the second story the lack of faith by His very own people was amazing to Jesus. It is therefore up to us to chose why Jesus should be amazed. Great faith will always make Jesus respond positively. Unbelief though receives nothing from Him. Hear what the scriptures say: "But without faith it is impossible to please him: for he that cometh to God must believe that he is, and that he is a rewarder of them that diligently seek him." Hebrews 11: 6 KJV I urge us therefore to open up our hearts to Jesus and trust Him at His every word. Let us trust that when Jesus speaks it is a done deal.
Little children still MARVEL at the likes of spider man and other super heroes created by the publishers of Marvel comics because they believe in their displays of super human abilities.
WE CAN MAKE JESUS MARVEL BY TRUSTING AND BELIEVING THAT HE IS MORE THAN ABLE TO PERFECT ALL THAT CONCERNS US.
LET US BUILD UP OUR FAITH AND MAKE JESUS MARVEL.  
OLUYINKA EGO-MARTINS©