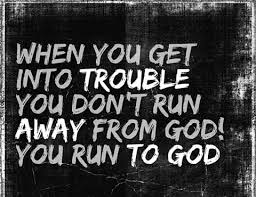 DO NOT RUN AWAY! 
Abbey was a very beautiful young lady who loved the Lord. She had brains too and had excelled through out her stay at the University.  She was a very brilliant engineer and could hold her own amongst her male colleagues.  Abbey was an only child and was pampered to a fault by both parents but she was also very well behaved and respectful.
One afternoon at work, she received a call from her father asking her to come to his office a little distance away from the central district where she was working at a site as the lead engineer. This was most unusual and unexpected. It was on getting to her fathers office that Abbey heard the news of her mother's untimely death when a drunk driver ran into her car earlier that morning. The news literally traumatised her and as the days wore on towards the funeral some things began to change in Abbey. She quietly began to question the love of God.  She would ponder in her mind "Lord, if you really loved me, my mother would not have died, leaving my father and I."
And so the weeks , months and even years passed by and Abbey just kept going through the motions until suddenly, she woke up one morning and realised she no longer had a relationship with her Lord and Saviour,  Jesus Christ. And she wept herself sore! She had believed a horrible lie that for her mother to have died so young, God could not possibly love her and her father. How very wrong was she! Then she began to yearn for the peace she had not known or felt in a very long time. She slowly sank to her knees and began to sob and speak at the same time.
" Dear Lord, I know I let you down and I am so sorry. I was afraid and alone and I got confused. Instead of running to you, I ran away from you. I want to love you like I used to even though I wandered away. I do not even know how to start or what to say. I am still crazy about you and am forever grateful and thankful for all you have done for me. Please Lord forgive me!."  The tears subsided and after the outburst she did feel a bit better but as she made to get up she felt the urge to just stay there on her knees and worship. While she was doing this the Lord began to speak to her,
"My child, I love you every which way" (We love him, because he first loved us.)  1 John  4:19 "and I forgave you already."  (Who forgiveth all thine iniquities; who healeth all thy diseases;) Psalms 103:3 "I love the wounded, the broken, the hurt (The LORD is nigh unto them that are of a broken heart; and saveth such as be of a contrite spirit.) Psalms 34:18 "I love the jilted,  the rejected (And when the Lord saw that Leah was hated, he opened her womb: but Rachel was barren.) Genesis 29:31 "I love the forsaken (When my father and my mother forsake me, then the Lord will take me up) Psalms 27:10 "And I love the barren too" (He maketh the barren woman to keep house, and to be a joyful mother of children. Praise ye the LORD.) Psalms 113:9 "And most definitely,  I love the lonely" (God places the lonely in families; he sets the prisoners free and gives them joy) Psalms 68:6. 
MY NAME IS JESUS AND I LOVE YOU UNCONDITIONALLY!
Abbey got up, wiped her tears, smiled and whispered a "Thank you, Lord".  And right there and then the matter is settled.
Dear friends, I encourage us today to make the Lord Jesus Christ our "go-to" person whatever we are facing. Let us make a habit of going to Him first because there is no problem, worry or situation that He cannot fix. That is why He came. "For the Son of Man came to seek and save those who are lost" Luke 19:10 NLT Even when we do wrong let us not run away from Him, but rather run to Him. He does not judge or condemn but He warns us to go and sin no more. ("Straightening up, Jesus said to her, "Woman, where are they? Did no one condemn you?" She answered, "No one, Lord!" And Jesus said, "I do not condemn you either. Go. From now on sin no more.") John 8:10-11 AMP 
DO NOT RUN AWAY FROM HIM; MAKE JESUS YOUR GO-TO PERSON. HE WILL FIX IT.
OLUYINKA EGO-MARTINS ©