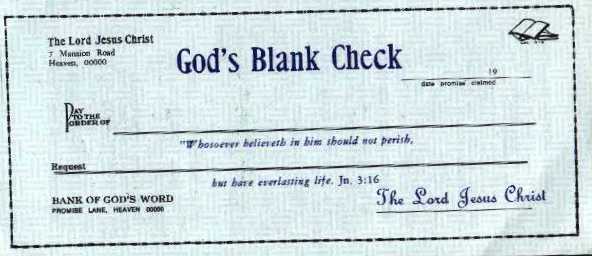 MY PERSONAL BLANK CHEQUE
Lately, I have become very excited about God's love for me. And so once again today, unashamedly, unapologetically and unreservedly, I celebrate that love. The greatest expression of God's love for us is that He gave up Jesus Christ, His only Son, as a sacrificial lamb to take all our sins away. It is written thus in the scriptures "For God so loved the world that he gave his one and only Son, that whoever believes in him shall not perish but have eternal life." John 3: 16 NIV  Let us start by putting our name in place of "the world" and you will love the sound of it because it has a nice ring to it and that makes it more personal.
A girlfriend once told me about how before she got married, she went away on holiday and her fiance gave her three blank cheques with her name written on them. She would have to call him back at home when she ran out of money, and he would then tell her what amount to write on the cheque while he proceeded to call his account officer at the bank to let them know a cheque was going to be presented. (This was way before the days of transfers and ATMs). The Merriam Webster dictionary defines a blank cheque as: a signed check with the amount unspecified. But as soon as all three cheques were cashed my friend no longer had access to the money in her fiance's account.
I want to share with us about how we can have constant unlimited access to an account that will never run dry. As soon as you accept Jesus Christ as your Lord and Personal Saviour, (please note the adjective Personal) His name becomes the signature on a blank cheque to us to cash from the Father. The currency and the value (our request) that we must input on that blank cheque is whatever we want it to be. And we must learn to use it and draw as much as we wish. The benefits of His name can and will never be exhausted.
What is our request now? What do we want the Father to do for us? Let us ask Him in the name of Jesus. For example, is it emotional or physical healing, financial provision or divine protection or is it just strength to cope with the challenges of the world we now live in? Then this is what our cheque might look like.
Pay to the order: Kikelomo
Request: HEALING/PROVISION (FINANCE, SPOUSE, CHILDREN)/ SHIELD/STRENGTH
Drawer Signature: JESUS CHRIST
What are we therefore saying of the LORD? "I will say of the LORD, He is my refuge and my fortress: my God; in him will I trust." Psalms 91:2 KJV;  Let us feel free to make a request for protection. "But you, LORD, are a shield around me, my glory, the One who lifts my head high." Psalms 3:3 NIV Are we asking Him to be any or all of these things to us? He can be all of them and much more to as many of His children that wish to draw on Him. And we can never deplete Him. Because in the Father's house "There is bread enough and to spare. We must not perish with hunger." Luke 15: 17 KJV (paraphrased)
Please come now and let us find rest in the love of the Father who loves us beyond compare. He is indeed a good Father. And we can access all that He has for us by believing in, trusting in and banking on His only son Jesus Christ, knowing that God gave Him up for us personally "He who did not spare his own Son, but gave him up for us all – how will he not also, along with him, graciously give us all things?" Romans 8:32 NIV Did you read that? All things!  It does not get any better than that.
What are you waiting for?
ACKNOWLEDGE JESUS TODAY! AND LET HIM BE TO YOU WHATEVER YOU WANT HIM TO BE. 
PICK UP YOUR PERSONAL BLANK CHEQUE; AND CASH IT IN!
JESUS IS MORE THAN ENOUGH.
OLUYINKA EGO-MARTINS ©