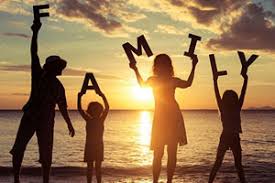 Relationships 2 – FAMILY.
As a sequel to my post on friendships, https://theplaceofpraise.com/relationships-1-friendships/ , published on August 4th, 2020, another relationship most of us find ourselves in is family relationships. Everyone in this world comes from a family, be it biological or non-biological. The major difference I have noticed between family and friendship as relationships, is that we choose our friends, but not our family. In the case of biological families, no one has ever gotten to decide which family they are born into.  The bible itself paints so many pictures of family from "Our Father who art in heaven" (Matthew 6:9 RSV) to the many stories about families, we can see that family is indeed God's design.
In family relationships, two significant virtues we get to develop are patience and tolerance of one another. For instance, in the case where your brother approaches situations differently from the way you do, making decisions may be difficult but with time you would learn to be patient and tolerate his behaviour. From another angle, it could be the case that you are the complete opposite of your sister, she will also learn to be patient when relating with you (as you might expect her to be). In order to make relationships work we have to put in "work", we should not be passive about our families. Three things that can help us work towards developing healthy family relationships are love, respect and forgiveness. The bible tells us in Exodus 20:12 RSV to "honour your father and mother, that your days may be long in the land which the Lord your God gives you." Also an often overlooked yet equally important scripture is in Ephesians 6:4 RSV which says "Fathers, do not provoke your children to anger, but bring them up in the discipline and instruction of the Lord." Family relations are not limited to children and parents, but this sets a sort of yardstick for other familial relationships. The two verses above both have elements of love and respect, but forgiveness is for the tougher times when things go wrong. Even God expects that we take forgiveness seriously so that He also may forgive us our sins. That is why Jesus said;  "And whenever you stand praying, forgive, if you have anything against anyone, so that your Father also who is in heaven may forgive you your trespasses."  Mark 11: 25 ESV I pray that God gives us all the grace to forgive the people we trust when they wrong us. Family is a basic unit of society, a common saying is that "charity begins at home",  if we pay regard to our families first, how a much better place the world would be. It is a simple cycle, the family, the community, the society, the world at large and on and on.
Conversations about family may be difficult for some, however I would like to remind anyone reading , that above all we have a "Father" in Heaven who loves us and we belong to his family. "For you did not receive the spirit of slavery to fall back into fear, but you have received the spirit of sonship. When we cry, "Abba! Father!" (Romans 8:15 RSV)  To those who no longer have beloved family with them, I want to remind you that you are not alone, God is with you.  In Psalms 147: 3 RSV, the bible tell us that "He heals the broken-hearted and binds up their wounds." Also, in John 16:22 RSV we are reminded "so you have sorrow now, but I will see you again and your hearts will rejoice, and no one will take your joy from you."
I leave this scripture with you today,
"What marvellous love the father has extended to us! Just look at it – we're called children of God!…" 1 John 3: 1 THE MESSAGE  
IfeOluwa Jaiyesimi. ©
The Revolutionary Righter