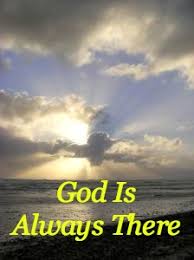 GOD IS ALWAYS THERE
Exactly this day, twenty-five years ago, in Lagos, Nigeria, I had the most horrifying experience of my entire life. I was a little over twenty five and I was very young in every way. I was vibrant, full of life, had a banking career ahead of me and I was pursuing it relentlessly. I was in a very healthy relationship that I was sure was going to the altar.  All was well. And I was on top of the world. Then that evening at about 8.00pm, on the way back from visiting a colleague, (who had just been discharged from the hospital) at her home in Surulere,  I was apprehended by some hoodlums who drove their car and blocked mine in such a way that I was unable to drive forward. In a bit of shock and anger, I was trying to unbuckle my seat belt and get down from my car and ask them what the drama was all about when one of the men started banging on my window pointing a fully loaded gun at me. Before I could do anything, he shot me in the face through the wound up glass and that was the last thing I remembered.  My colleagues from work, who were like sisters, and with whom I had gone visiting our other colleague, were driving past in their car when they saw me lifeless behind the wheels of my car. They managed to drag me out and eventually got a "good Samaritan" with a bus to drive me to the Lagos University Teaching Hospital which was close by. The rest as they say is history.
Today I wish to celebrate and thank everyone who stood with me and stood by me then. Too many to mention, I will name just a few. My prayer warrior sisters, Aderonke, Chisa, Yvonne, (of blessed memory), Modupe,  Rotimi, Funke O (Big Sis), Funke A, Funke B, Ngozi, and our brothers, Solzzz,  Akin, Ajiba.
Now this was twenty five years ago. Some of our children who were born then are now married with their own children too. It's been such a long time and a lot of water has gone under the bridge. Some of those people who stood by me then have gone home to be with the Lord;  my dad, my oldest brother and a very dear friend. Some of them made the choice to walk out of my life and walk away. Some of them are so far away in other continents we have not seen or spoken in years.  My mother and other siblings and their spouses have been my greatest support system and that is of course besides the awesome partner God reserved for me, Mr. Ego-Martins, my extremely supportive and loving husband.
So where am I going with all this, today I am alive and well. I am in good health and I give God all the glory. Here is the thing, people will come and go out of our lives. Some will go to be with the Lord, some will move on, some will relocate, some of us will grow out of some relationships,  we will change jobs, we will get married and a whole lot of other things will happen to change our positions. Some will hurt us, some will fight us, some will betray us, but regardless of what happens to us one thing remains constant: God will  always be with us. "..For he hath said, I will never leave thee nor forsake thee." Hebrews 15: 5b KJV
We can never irritate, annoy or anger God to the point where He will have had enough of us and never want to see us again. That will never happen. Through the good times, He is there and even when the times are not so good, He will never turn His back on us.
"What if the Lord had not been on my side when those people attacked me?
They would have swallowed me alive in their burning anger.
The waters would have engulfed me; a torrent would have overwhelmed me.
Yes, the raging waters of their fury would have overwhelmed my very life.
Praise the Lord,  who did not let their pellets tear me part.
I escaped like a bird from a hunter's trap. The trap is broken, and I am free!
My help is from the Lord, who made heaven and earth. " Psalms 124 NLT ( paraphrased)
The Lord is very present whenever we need Him and He is all the help that we will ever need. It does not matter what we have gone through or are going through now. Trust me, it will come to pass. And one day like I do today we will look back and praise God who will see us through.
I leave us with the song "He's always there" by Bebe and Cece Winans.  Please enjoy it.
OLUYINKA EGO-MARTINS ©