THE ORIGINAL SHEPHERD KING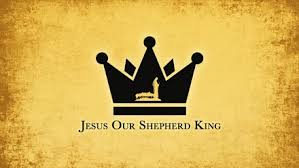 THE ORIGINAL SHEPHERD KING
We have often been told that the old testament of the bible presents with types and shadows of Jesus Christ. Even Jesus said so. "If you really believed Moses, you would believe me, because he wrote about me." John 5:46 NLT I want to share with us one of the kings of Israel who was an exact shadow of Jesus in more ways than one. His name is David the son of Jesse, and here are a few ways in which he pointed us to the Messiah.
As a young lad, David was assigned to care for his father's sheep and run errands. A carer of the sheep is a shepherd and David was totally devoted to the sheep. He even put his life on the line to protect them. "But David persisted. "I have been taking care of my father's sheep and goats," he said. "When a lion or a bear comes to steal a lamb from the flock, I go after it with a club and rescue the lamb from its mouth. If the animal turns on me, I catch it by the jaw and club it to death." 1 Samuel 17 : 34-35 NLT Jesse might have been the owner of the sheep but David was the shepherd.  See how Jesus describes it. "When the hired man, who is not a shepherd and does not own the sheep, sees a wolf coming, he leaves the sheep and runs away; so the wolf snatches the sheep and scatters them."  John 10:12 Good News Translation The original Shepherd of the sheep is Jesus.  "I am the good shepherd, and the good shepherd gives up his life for his sheep." John 10:11 Contemporary English Version Jesus gave His all for us. And that is exactly what David did for the sheep he was tending.
We know that David was a very keen musician. He wrote many of the Psalms and set some of them to music. He was truly gifted and from the words of his Psalms he strengthens and encourages us through trials and temptations. He even gave musical therapy to soothe Saul when he was afflicted by an "evil" spirit sent by God.  Similarly,the Lord brings music to us even in our darkest moments.  "Every day you are kind, and at night you give me a song as my prayer to you, the God of my life." Psalms 42:8 Contemporary English Version  At the end of his life it was said of David "The oracle of David son of Jesse, the oracle of the man raised up as the ruler chosen by the God of Jacob, Israel's beloved singer of songs:" 1 Samuel 23:1 New English Translation
David was a man of war. He fought battles and won. And even when he desired to build a temple for God, God said his hands had shed so much blood and that disqualified him from that very noble task. But that did not take away the fact that he destroyed enemy armies. 2 Samuel 23:8-39  details the names of David's fighting men and their exploits in defeating their enemies especially the Philistines. Do you remember how Goliath kept making a reproach of the Israelite army, well David came in and trusting God made an open show of defeating Goliath. And this is exactly what Jesus did too. "And having spoiled principalities and powers, he made a shew of them openly, triumphing over them in it." Colossians  2:15 KJV David who slew his tens of thousands mirrors Jesus the Lord God of hosts.
As a King, a ruler and a leader, David was fiercely protective of his realm and always enquired of the Lord before going into battle. And he did the will of God. "And when he had removed him, he raised up unto them David to be their king; to whom also he gave testimony, and said, I have found David the son of Jesse, a man after mine own heart, which shall fulfil all my will." Acts  13:22 KJV Without any doubt God was pleased with David and He said so when referring to David as "a man after my own heart". This is the same way God expressed pleasure at His Son, Jesus saying "And there came a voice from heaven, saying, Thou art my beloved Son, in whom I am well pleased." Mark 1: 11 KJV Jesus did the will of the Father even when it was not easy.  "Saying, Father, if thou be willing, remove this cup from me: nevertheless not my will, but thine, be done."  Luke  22:42 KJV
Jesus Christ is the original Shepherd of the sheep and the King of kings. We have seen some ways in which David mirrored Him. How do we mirror our Lord? How do our  family members, work colleagues, friends, neighbours, school mates and church members see us? Do others see Jesus in us or do they wonder when we say we are Christians? The example of David shows that it is not about being perfect  because David had his faults. But his humility, submission, willingness and complete trust in God endeared him to God. David had obstacles and challenges but he always trusted God for victory. Even in this pandemic more than ever before let us trust God for victory.  All will be well.
And like David let our lives reveal the original Shepherd King, JESUS, to those around us.
OLUYINKA EGO-MARTINS ©