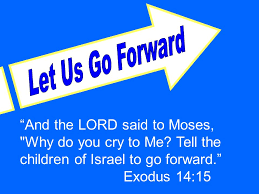 THE TIME TO MOVE FORWARD
"I stood rooted to the spot with fear"
"I stood transfixed with fear"
"I stood paralysed by fear"
All the above are expressions in the English language that connote great fear, shock or surprise. Emotions that make one temporarily unable to move. Yet there is a time and a place when we must move regardless of whatever shock or fear that we feel otherwise we "stand" (no pun intended) the risk of being consumed by the very thing that kept us rooted, transfixed or paralysed to the spot.
There is a scripture that most of us are familiar with. It goes like this: "Moses said unto the people, Fear ye not, stand still, and see the salvation of the LORD, which he will shew to you to day: for the Egyptians whom ye have seen to day, ye shall see them again no more for ever."  Exodus 14:13 KJV. Most of us know the story. When Pharaoh the king of Egypt finally let the Israelites go after many years of slavery, he suddenly had a rethink and started hunting them down to enslave them again. He and his horsemen with their chariots and all the military might of Egypt were out chasing after Moses and the people. The Israelites then got to the foot of the Red Sea and realised there was no way to go across. And then the sound of horses hooves announcing the arrival of the Egyptian army terrified them. In fear they cried out to the Lord and also started to grumble and complain to Moses that he should have just left them alone in Egypt instead of bringing them out to die in the middle of nowhere.  (Have we made living in bondage our comfort zone so much so that even after we have been delivered we contemplate going back just because we encounter a hurdle on the way?) I hope not!  Because there will be more hurdles along the way so let us just get ourselves ready to scale them as there is no other way around them.
Now the Lord's response was an interesting one.  "And the Lord said unto Moses, Wherefore criest thou unto me? speak unto the children of Israel, that they go forward:" Exodus 14:15 KJV. The Lord told them to move forward even in the midst of their fear. And He told them to move on right into the uncertainty,  the unknown,  the deep that was the Red Sea. Yes the enemy was bearing down on them and it was not the time to be standing still. It was time to move! And guess what? When they moved, God moved and made a way!  So would God not have moved if they stood still? I honestly cannot tell you that. But I can tell you that if they stood still the Egyptians would have captured them.
Dear one, the world is right now in a place where it has never been before. The scourge of the COVID-19 is very real. And it is absolutely no respecter of persons. Anybody can test positive. Status, wealth, pedigree and faith do not exempt anyone from the deadly virus. This is not the time to stand still and be forwarding all kinds of messages about on Social media. A lot of data and literature is out there. But one thing remains: personal hygiene is at the top of the list. Hand washing can never be over emphasized at a time like this. So how are we moving forward? Avoid crowds, if you do not have to be there just stay at home, wash your hands as often as you possibly can and keep your hand sanitizer handy. Please do not disregard or ignore all the warnings and information on the Centre for Disease Control website and say "God is in control." Honestly it does not work that way.  Let us do our bit, let us move forward and then watch God take charge.
Even in their fear, the Israelites moved forward first and then God made a way for them to walk on dry land in the midst of the sea.
WE MUST NOT ALLOW THE FEAR OF COVID-19 TAKE OVER US. LET US MOVE FORWARD BY MAKING PERSONAL HYGIENE A PRIORITY AND AVOID CROWDED PLACES. 
AS WE DO SO I PRAY NO PLAGUE WILL COME NIGH OUR DWELLING.
STAY SAFE AND HEALTHY. 
OLUYINKA EGO-MARTINS ©