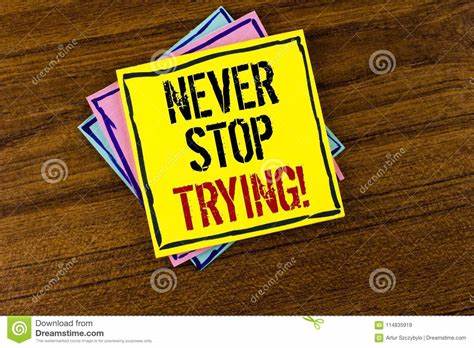 DO NOT STOP TRYING
"So do not throw away your confidence; it will be richly rewarded. You need to persevere so that when you have done the will of God, you will receive what he has promised."  Hebrews 10: 35 – 36 New International Version
Please let me make a confession? Sometimes I quit too soon.
I have quit when what I really needed was to press on and press through. Sometimes I've grown tired of the struggle, tired of believing, tired of trying. I have missed blessings because I threw up my hands in defeat and surrender in the midst of the battle and said: "Just forget it!" I have thrown in the towel when I was very close to making a mark.
However, I made a decision to change my attitude. I will no longer give in before I reach the goal; I will no longer stop half way through, I will make it tom the finish line. I took a big lesson from the book of Joshua 6: 1 – 21. The battle plan and the strategy for Joshua to take the Promised Land was as simple as it was strange, complete with marching for seven days around the city of Jericho, a whole army shouting and priests blowing their trumpets. Now that was a strange plan, if you ask me. But then, God's infinite ways often do not make sense in our finite minds. Sometimes we have to be willing to look ridiculous and be radical to live a remarkable  life. The choices we make when we feel God's nudge will become the hinges on which our destinies will swing. Jericho was tightly shut. Sometimes it does feel like our promises are tightly shut as well but that does not mean we should give up.  What we should actually do is sit up, step up and keep moving forward till we hit the target.
God said in Joshua 6:2b "See I have delivered Jericho into your hands." God did not say "I will or I shall deliver Jericho into your hands."  God said affirmatively that He had delivered Jericho into their hands. An emphasis of a done deal was added. God had already done it but the Israelites had to obey to receive it. I love how God speaks in past tense to our present problems. But here is the conundrum: What do we do when what God says does not match what we see? When all we see is a big wall standing between our promise and our present situation? There are times when we put in our best efforts , doing all we know how we still do not see any movement. The Israelites walked around Jericho for six days and as far as they could see nothing was happening. The people behind the wall would have been unnerved and as for the walkers not one brick fell. Now this is where many give up, including myself, when we do not see any progress. Then we begin to ask God for a sign; a hint of progress, something, anything. And God says; "Keep walking… by faith, you are closer to the goal post now than ever before; keep pushing, keep moving!" Just because we do not see God working, it does not mean that He is not.  "But Jesus replied, "My Father is always working, and so am I." John 5 :17 New Living Translation
Today we just might be on our last lap; our number seven around that wall of Jericho and not even know it. If the Israelites had stopped on day six, saying the march around the wall was ridiculous , that not a single stone had  fallen to the ground yet, that they could not see any progress or that the folks behind the wall were probably having a good laugh at them.  Their miracle would certainly have elude them. They would have missed the blessing.
Perhaps you have wondered
"How much longer will I have to wait, until God brings my prodigal home?"
"How much longer will I have to struggle with my health and wellness?"
"How much longer will I have to endure this dead-end job?"
"How many more laps will I have to walk around Jericho before the walls come tumbling down, so that I can take hold of my Promised Land?" I do not know the answers to theses questions but I do know this; tomorrow could be the final lap.
PLEASE DO NOT STOP TRYING!
PST.  EVELYN
(Writing AT THE COURTYARD)