HEAR JESUS AND BE HEALED!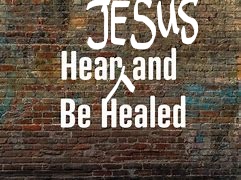 HEAR JESUS AND BE HEALED!
Dear friends, what or who are we listening to? Some of us have play lists on some of our devices where we upload our favourite songs so we can listen to them whenever we want to. For some, their playlists change according to their moods. You can tell how they are feeling just by listening to what they are listening to at any point in time. For others their moods dictate what songs will go on their playlist. This says that what we listen to is a powerful tool that can shape us or break us; in a manner of speaking.
These days I find that people are living in fear and in panic; always expecting the worst to happen. This is one of the reasons why mental health challenges are on the increase. As a therapist, who uses the Cognitive Behavioural Therapy (CBT) in the treatment of certain mental disorders, where we encourage patients to change their thoughts in order to behave and feel differently, one observes a similarity between people who do not manage what they expose their senses to and people who allow their thoughts run amok.  When there are no boundaries or limits it is difficult to define functions. Some things are simply offensive and if we have not yet defined what offends our senses our intake of junk will eventually make us sick.
Some of us are watching and listening to anything and everything from sun up to sun down. This is not healthy at all. Personally, I do not read, open or watch all content put up on most groups I belong to. I do not trust that some members will not post disturbing content. We all have different thresholds for trauma. And honestly some people do not realise this and then they wonder why they get upset, irritable or extremely sad after reading or watching certain posts. 
There is one thing we can do that is guaranteed to keep us in high spirits. It is to listen to Jesus as He speaks to us through His word when we study the bible or as we listen to sermons.  This is what the scripture says: "They had come to hear him and to be healed of their diseases; and those troubled by evil spirits were healed. Everyone tried to touch him, because healing power went out from him, and he healed everyone." Luke 6: 18-19 NLT  
One of the first things that will happen when we are listening to Jesus is that we will get healed. Another thing is that our faith will increase. "So then faith cometh by hearing, and hearing by the word of God."  Romans 10:17 KJV When we are listening we are guided in our choices and decisions. "Give ye ear and hear my voice; hearken, and hear my speech. For his God doth instruct him to discretion, and doth teach him." Isaiah 28: 23 and 26 KJV Listening to God will add more years to our lives. "Hear, O my son, and receive my sayings: and the years of thy life shall be many." Proverbs 4: 10 KJV 
Now for anyone to fully enjoy the benefits of listening to and hearing God, it is expected that there must be an existing relationship. Otherwise they will not make out time to study the bible or listen to preachers. After all we are not likely to spend time with someone we do not have a relationship with. Moreover any words we hear of them or from them will sound like mere words to them. I encourage us today to take this one relationship very seriously as it assures our safety at all times. Jesus tells us this: "My sheep hear my voice, and I know them, and they follow me: And I give unto them eternal life; and they shall never perish, neither shall any man pluck them out of my hand."  John 10: 27 -28 KJV
In all of this, the summary is that the word of God is highly therapeutic. Yes! You read that right. Let us continue to Hear Jesus and experience healing in every area of our lives.
OLUYINKA EGO-MARTINS©