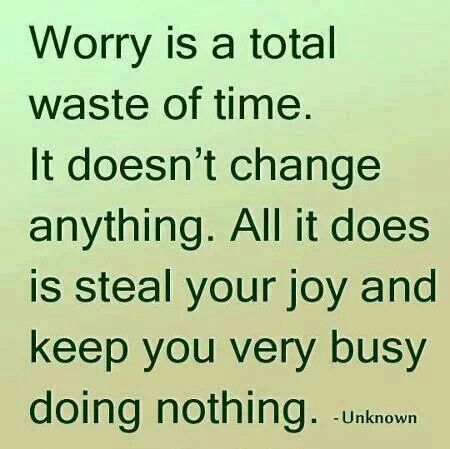 LET NOTHING WORRY YOU
The year 2022 that the Lord gave is slowly coming to an end. Like all the years before and the years to come, it represents different things to different people. For some it was the start of great things, wonderful new beginnings. For others it was filled with loss and pain and even grief. For most it was fear; of insecurity, of inflation, of wars and rumours of wars, of what the future will present in the face of the global recession.  In spite of all these, a whole lot of people still had a merry Christmas celebration one way or another.
There was a particular message that kept popping up from most of the messages I received from family and friends. It went something like this "that the joy and peace of the season should abide with us now and beyond." For me they were much more than the words on a greeting card. In the face of all that's going on around the world at this time, we definitely need joy and peace to stay grounded otherwise one is just a few paces away from depression, which has slowly crept into many homes and many lives and is making a full time habitation there.
To be at peace and to be joyful does not say that one is unaware of, or that one is not fully cognisant of the sign of the times. The truth is that our worry or anxiety will not change anything. As a matter of fact, they will only get us deeper into a dark place in our minds where fear will reign. And that is not the way for anyone to live. Therefore let us keep trusting God to bring us out of the mess and rot. No amount of talking about it, complaining or getting agitated in heated arguments will solve the problem.
My greatest challenge this year has been the amount of hours I have had to spend on commuting. It is frustrating to say the least. I made up my mind though that I will not be spending precious time talking about it. It changes nothing. So at the end of one day while trying to get my son to bed, (we have a routine of prayer, bedtime story and song), the Lord popped a song in my mind and as I played it and sang along with my son, I soon realised that the song was more for me than for him as I found the words to be very uplifting. I had actually learnt this song way back in Primary school but I never really knew the lyrics back then. So it was such a delight when I found it on Youtube. The song is written by Burt Bacharach and Hal David and sang by B. J. Thomas for a 1969 movie titled Butch Cassidy and the Sundance Kid. The song won an Oscar for Best Original Song, while Burt Bacharach won Best Original Score.
Please see the lyrics below:       
RAINDROPS KEEP FALLIN' ON MY HEAD
Raindrops keep fallin' on my head
And just like the guy whose feet are too big for his bed
Nothin' seems to fit
Those raindrops are fallin' on my head, they keep fallin'
So I just did some talkin' to the sun
And I said I didn't like the way he got things done
Sleepin' on the job
Those raindrops are fallin' on my head, they keep fallin'
But there's one thing I know
The blues they send to meet me won't defeat me
It won't be long till happiness steps up to greet me
Raindrops keep fallin' on my head
But that doesn't mean my eyes will soon be turning red
Cryin's not for me
Cause I'm never gonna stop the rain by complainin'
Because I'm free
Nothings worrying me
B. J. Thomas 1969
The words of this song say so much. Let us look ahead and move right along trusting God to make good on His promises concerning us, as happiness will soon step up to meet us. Hear what God is saying: "For I am about to do something new. See, I have already begun! Do you not see it? I will make a pathway through the wilderness. I will create rivers in the dry wasteland." Isaiah 43: 19 NLT It is therefore not the time to let the tears get our eyes red because crying is definitely not for us. What is gone is gone. Let us trust God for restoration which is always so much better anyway. Let us trust Him for comfort, healing and provision too.  He does the best job of all these.
As we focus on Him to take care of all that concerns us in 2023, PLEASE, LET NOTHING WORRY YOU!
HAVE A GREAT 2023!
OLUYINKA EGO-MARTINS©