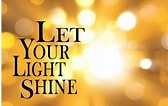 LET YOUR OWN LIGHT SHINE.
It is no longer breaking news that at the just concluded World Athletics Championships that held in the city of Eugene, Oregon in the United States, Nigeria was in the spotlight. There were some very pleasant surprises, especially the record breaking performance of Tobi Amusan for the one hundred meter hurdle (100mH). It was also very emotional hearing the Nigerian national anthem at the medal award ceremony. Some other Nigerians like Ruth Usoro and Ese Brume had also participated in the long jump event and Brume had carted away the silver medal. And still on the list of surprises was the team of Nigerian young ladies who participated in the 4x100m relay event. They did not win a medal but they came in fourth and broke a thirty year old record that had been set by their fellow Nigerians in 1992 in Barcelona, Spain. These young ladies have done Nigeria proud and already, in the ongoing Commonwealth Games, Birmingham 2022, Nigerians are going strong having won two gold,  one silver and two bronze medals so far. Our athletes are doing very well.
In a nation where the current popular narrative is that we rank highest in the world as the most corrupt, where insecurity and lawlessness are the order of the day, it was definitely most refreshing and heart warming to hear commentators talk positively about the Nigerian athletes at the World Athletics Championships event. These ladies did not allow the negativity that surrounds a lot of Nigerians abroad, to define them or shape their own conduct.  Rather they stood out and were outstanding and the world saw them. Seeing them trending in the news reminded me of the first stanza in a Childrens' hymn that goes thus:
"Jesus bids us shine, with a clear, pure light,
Like a little candle burning in the night;
In this world of darkness we must shine, 
You in your small corner, and I in mine." Susan Warner  1819 – 1885
These athletes shone bright and are shining in their corners. How are we faring in our own corners? Are we letting our light shine or are we of the opinion that there is so much darkness no one will notice our light? Not so! Light is what will chase the darkness away and that is probably why the bible says "In the same way, let your light shine before others, that they may see your good deeds and glorify your Father in heaven." Matthew 5: 16 NIV We cannot say everyone inflates contract prices in order to "settle" the bosses at the top and so we will do the same. No, that lets the darkness circulate. It is up to us to change the narrative of Nigeria by being and doing our best all the time whether we are in or outside our country. It is not insignificant when we put in our best. It actually adds up and besides people see light, no matter how little a flicker it is. If one strikes a match in the dead of night it is immediately visible.  When we shine in our corners, others see. Everybody will not acknowledge our good deeds but that should not be a deterrent. One might argue that most of those athletes are not resident at home in Nigeria and that life is not as tough as it is in Nigeria at the moment. And so their current locations are conducive for them to be able to showcase their talents. Well I beg to differ. There are a lot of hardworking, God fearing people who have integrity in Nigeria. Those around them see their light shining. The way we each have to let our lights shine is the same way each one of us has to work out our own salvation with fear and trembling.  "Dear friends, you always followed my instructions when I was with you. And now that I am away, it is even more important. Work hard to show the results of your salvation, obeying God with deep reverence and fear." Philippians 2: 12 NLT 
It is not up to our church leaders but up to us personally to do the will and love of God. They do their bit by teaching and shepherding but we must by ourselves seek the kingdom of God and its righteousness. The performance of those athletes did not depend on the leadership of Nigeria. Each one of them worked mighty hard to achieve what they did. When we have a committed relationship with Jesus, doing the will of the Father becomes a priority.
IT IS TIME TO BRING JESUS IN AND LET THE DARKNESS OUT.
LET YOUR OWN LIGHT SHINE. 
OLUYINKA EGO –MARTINS ©