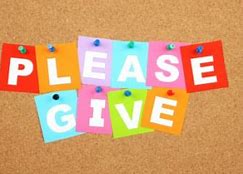 PLEASE GIVE!
I like to believe that I have always been a giver. Yet I never truly realized the depth of the spiritual activity that is giving, especially when done sacrificially. It does not matter how much or how little we have. We must know and acknowledge that whatever we have comes from God. I was reminded of this when I remembered a hymn that we used to sing way back in the Anglican Church. When the offering was being carried to the altar by a member of the Guild of Stewards we all stood to sing this hymn.
It goes like this:
"Ohun t'a fi fun O
Tire ni Oluwa
Gbogbo ohun ti a si ni
Owo Re lo ti wa."  Hymn 428 Iwe Orin Mimo (Tune: Narenza)
The English version of this hymn is "We give Thee but Thine own". However, the loose translation from Yoruba goes something like this:
"That which we give to You,
Belongs to You, Lord,
And everything that we own,
From your hands, have they come." (Please note that the words of this translation are mine and do not conform to any particular meter)
Last week I had written about the role that hymns play in our Christian walk and one of my sisters, in responding to the article said "Hymns are personal sermons." So borrowing from that I began to meditate on the hymn and as I was ministered to by that particular hymn certain things occurred to me. First nothing really belongs to us. So why fight, destroy and kill each other over all these material and physical things that we shall not be taking anywhere when its time to go home? Secondly, if everything belongs to the LORD, then He can give us as He pleases and regardless of the connections we imagine we have, if God does not allow it, it is not going to happen. Finally, if we know and believe that everything belongs to God, it will not be difficult to give to others who are in need.
It has been said time and again that we should be careful how we live because some of us are the only bible that others will ever read. When we give to those in need, it might be the singular thing that will transform their lives and the lives of future generations to come.  "If you help the poor, you are lending to the LORD – and he will repay you!" Proverbs 19:17 NLT  Now that is a mega big deal because God will never owe anyone. He will pay and He will pay with interest. The best time to give is when you do not have much yourself. I have learnt this from very personal experiences.  This tells God that you trust Him as your source and it is of what He has given you that you give to others who have a greater need.
Sadly today, giving has been abused so much so that some shy away from giving to others but please remember this one thing; God is the greatest giver and we have Him as our all-time example. He gave all He had out of love.  "For God so loved the world, that he gave his only begotten Son that whosoever believeth in him should not perish but have everlasting life." John 3:16 KJV
If God keeps giving then we are selling ourselves short when we refrain from giving. Quite honestly, it does not matter how much or how little we have, we should make a habit of giving. It is one thing that is truly pleasing to God. Jesus Himself said this "Give, and it will be given to you. A good measure, pressed down, shaken together and running over, will be poured into your lap. For with the measure you use, it will be measured to you." Luke 6:38 NIV
Some versions say men will give into your bosom but I love this one especially because it says it will be poured into my lap. That for me is endless possibilities of who will and how it will be given to me.
NO MATTER HOW SMALL, PLEASE GIVE, IT IS FOR YOUR GOOD!
OLUYINKA EGO-MARTINS©