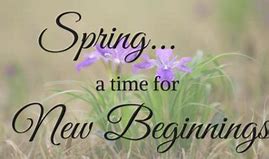 SPRING IS HERE
It's officially Spring! Yaaaaaay!!
The first day of Spring was 20th March, 2022. The season of Spring has been and always will be associated with new beginnings, freshness and fruitfulness. Now, because it comes after the bleakness of winter or the dry harmattan of the West African subcontinent, spring is welcomed with very open arms and anticipation for a lot of positive changes. Spring comes with the rains and vegetation begins to blossom. Farmers are happy and hopeful that the spring will eventually lead to a bountiful harvest.
In the olden days springtime was also a time of war because there were better and more conducive climate conditions for armies to camp out. (Please see the place of praise article of June 9, 2020: https://theplaceofpraise.com/it-is-spring-time-to-blossom/ ). One particular Spring in the history of Israel, when David was king, his armies and fighting men led by Joab, went to war as was expected; but David stayed behind. According to scripture in 2 Samuel 11, we read the account of all the misfortune that befell David as a result of staying back home just that one time; from lusting after another's wife, to committing adultery with her; getting her pregnant and eventually murdering her husband before marrying her. This is a well known story in the bible yet I began to wonder exactly how David's men felt after the atrocities that David had committed came out in the open. David whom all of them looked up to, generous David, worshipper David, brave David, Psalmist David – whatever possessed him to descend so low? And did he just have to kill poor innocent Uriah too? Could David ever be trusted again? So many questions left unanswered.  It was just a terrible tragedy.
Now here we are at the threshold of many springs later. I believe we are all excited and expectant about the possibilities that abound in this new season. The natural thing would be to poise oneself ready in order to seize opportunities as they come. Yet we cannot seize anything by sitting back or staying behind. In fact sitting back and being nonchalant is a recipe for disaster.  When David stayed back he made a massive mess of everything. To seize something talks about taking it forcibly or suddenly. If we are caught sitting around and napping in this season, opportunities might pass by before we know they were even there. Like David's fighting men who knew the right thing to do and did it with zeal, we should get ourselves up and ready. It is the time of war and we must know that our battles are not physical battles. It is written thus: "For we wrestle not against flesh and blood, but against principalities, against powers, against the rulers of the darkness of this world, against spiritual wickedness in high places."  Ephesians 6:12 KJV
As we advance in this season and in this battle, our most potent weapon is easily accessible to everyone. It is the Word of God.  "For the word of God is quick, and powerful, and sharper than any twoedged sword, piercing even to the dividing asunder of soul and spirit, and of the joints and marrow, and is a discerner of the thoughts and intents of the heart." Hebrews 4:12 KJV
"My words are a powerful fire; they are a hammer that shatters rocks." Jeremiah 23: 29 Contemporary English Version.  The Word of God is weapon enough for us.
 Whether we know it or not, there are those who look up to us in many ways. There are our families, our domestic staff, our employees, our friends and so many other people. Any slackness on our part can have devastating effects and consequences on them. This spring let us advance into new beginnings holding on to the word of God and using it to pull down anything that wants to prevent us from getting to our bountiful harvest.
OUR HARVEST WILL SURELY SPRING FORTH.
OLUYINKA EGO-MARTINS©