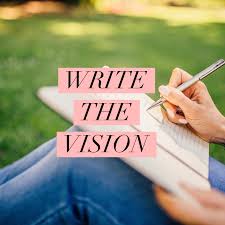 WRITE THE VISION.
There's a common saying that goes "the faintest ink is stronger than the sharpest brain." This can be loosely interpreted to mean that anything put in writing lasts longer than something in a person's memory.
A vision can be described as this;  the ability to think about or plan the future with imagination or wisdom." Therefore a vision may not only refer to seeing things to come. It can be as simple as planning a goal to accomplish, be it academic excellence at school , personal development at work or any accomplishment at all in life. The peculiar thing about a vision is that a person would most likely have a mental picture of what that vision is and possible ways to achieve it. After a vision has been conceived in the mind it is then best to write it down. It says in Habakkuk 2:2-3 English Standard Version. "And the LORD answered me: "Write the vision; make it plain on tablets, so he may run who reads it."
Take the building of a house for example, one can't just abruptly start building a house. The construction process starts with an architect who makes the plan of the house. Another example is a tailor, before they sew a garment, they make a sketch or design and from there they start sewing the garment. Two very different vocations but one similarity, the vision of what they wanted to create was in writing (sketch or drawing.) They work with what they have written down and actualise their vision from there. Then we see a masterpiece, but it all started with a vision!
Several times in the Bible there is reference to putting things in writing: ("Thus speaketh the LORD God of Israel, saying, Write thee all the words that I have spoken unto thee in a book." Jeremiah  30:2 KJV)  From Moses collecting the ten commandments to the entire bible itself. The Bible is a collection of writings inspired by the Holy Spirit, sold in countries all over the world and translated in different languages. The message still lives on, and remains the same. The vision of the word of God is to give hope. "For whatever was written in former days was written for our instruction, that through endurance and through the encouragement of the Scriptures we might have hope." Romans 15:4 English Standard Version
The message to the Prophet Habakkuk in Habakkuk 2:2 to "Write the vision" and "make it plain" , is not just limited to writing down a vision, but also planning it in order for one to follow and to actualise the vision. "Running with it" means holding on to the vision so it's there for reference. One can refer to it when it feels like they've lost their way or to just stay grounded.
But what if the vision does not become a reality? What if that achievement is not reached? What then do we do?
Habakkuk 2:3 comforts us, "For still the vision awaits its appointed time; it hastens to the end—it will not lie. If it seems slow, wait for it; it will surely come; it will not delay."  That even if the vision delays, wait for it as it will surely come  (please refer to THE PLACE OF PRAISE article of 30th October "https://theplaceofpraise.com/wait-its-part-of-the-plan/" ). The vision will come in its time, and the truth is that our time may not always be Gods time. But I want to assure you that's Gods time is right!
"For I know the plans I have for you, declares the LORD, plans for welfare and not for evil, to give you a future and a hope." Jeremiah 29:11 English Standard Version
I urge you today brethren, to "WRITE THE VISION, MAKE IT PLAIN AND RUN WITH IT!" 
IfeOluwa Jaiyesimi.
The Revolutionary Righter ©